NHS Wales waiting lists: Woman has operation in Lithuania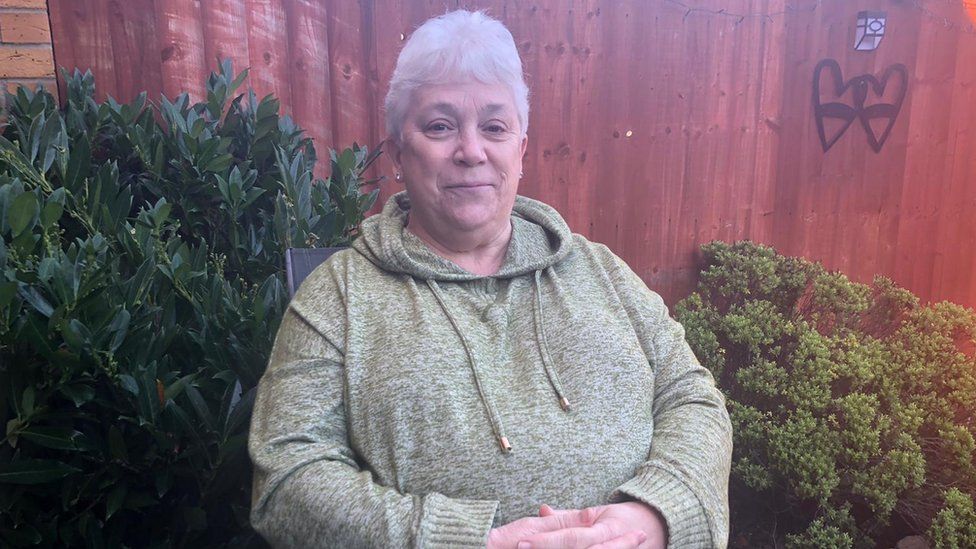 A woman travelled to Lithuania for a hip replacement because the NHS in Wales faces such huge waiting lists.
Jill Davies, from Birchgrove, Swansea, waited four years to see a consultant and was told there was a further three-year wait for an operation.
It comes as a surgeon warned patients on waiting lists had been questioning whether their lives were worth living.
The Welsh government said it wanted to "radically transform" how healthcare was delivered.
Ms Davies, 66, a retired head teacher, was told in 2016 she had arthritis in both hips and that it was more severe in her right, but only in December 2020 was she referred to a hip consultant.
"By that time I could not really walk," she said.
"I was down to walking like 25 metres, using a stick all the time. If I went shopping I used to hire one of the scooters because I was lacking in mobility at that time."
When she finally saw the consultant this year he told her he would put her on the waiting list for an operation, but that it would take three years.
"At that point I burst into tears," Ms Davies said.
She was "absolutely flattened" so decided to go to Lithuania for treatment.
She contacted a clinic on 1 July, flew out on the 22nd and had her operation on 24 July, followed by a 10-day intensive rehabilitation programme.
"I'm in no pain," she said.
"I can walk, I'm swimming, I can drive and do what I want to do. I've got my life back."
Paul Williams, an orthopaedic surgeon at Neath Port Talbot Hospital, said the effect of long delays on mental and physical health was "horrific".
He said: "To be living with pain from an arthritic joint is terrible.
"We sent out a questionnaire recently and many of the patients have actually replied that they're questioning if their life is worth living because of the pain they're in."
The latest figures for the Welsh NHS showed another record high for those waiting for hospital treatment.
The number of patients waiting more than 36 weeks has grown from 25,634 in February 2020 to 243,674 by August 2021.
The longest waits included 56,279 people who needed orthopaedic or trauma treatment.
The overall waiting list for treatment is a record 657,539 - just over a fifth of the Welsh population.
In the Swansea Bay health board, which covers Swansea county and Neath Port Talbot, problems were exacerbated when elective surgery at Morriston Hospital was postponed for seven months in 2019, before the Covid pandemic hit.
The health board said it planned to transform services with its three hospitals focusing on different things to protect surgery from emergency needs or winter pressures.
Neath Port Talbot Hospital will become an orthopaedic centre of excellence, with investment approved by the Welsh government for four new theatres.
Orthopaedic surgeon and Singleton and Neath Port Talbot hospitals' medical director, Dougie Russell, said: "Now the pandemic's happened it's given us an opportunity to reset the whole system.
"This is our opportunity to get ourselves on a level footing."
The Royal College of Surgeons said regional hubs concentrating on routine surgery should be introduced across Wales to cope with the backlog.
Mr Williams said: "Orthopaedics has always been seen as an area where patients can wait a bit longer and a bit longer, and perhaps a bit longer still, but you can't put a price on that."
Plans for the three hospitals come as a Welsh government conference meets on Thursday to discuss tackling waiting times.
Health Minister Eluned Morgan said she would invest another £170m a year to "transform" planned care.
She will tell the meeting she hopes extra cash will "build a planned care system that is bigger, better and more effective than we have seen before".
Director of the Bevan Commission think tank, Helen Howson, said fixing record waiting times would be the biggest challenge facing the NHS since its creation.
She said the disruption Covid caused should force it to address problems that existed before the pandemic.
The Welsh government said it wanted health boards to "radically transform" the way planned healthcare was delivered.
As well as the £170m, Ms Morgan will outline £1m for a fund to help health boards to innovate.
She said: "The impact of the pandemic on planned care has been significant, resulting in a massive backlog of patients waiting for planned treatments.
"We need a whole system approach to how care is delivered and by investing £248m in Covid recovery, £170m in planned care and £42m in social care, we hope to put NHS Wales in a stronger position for future generations."
NHS Wales chief executive, Judith Padgett, said: "We need to transform the way we deliver services. Many advancements and new ways of working have come online during the pandemic, but it is important to build on these and use the opportunity to create modern health and social services for the future."