Blaina homes with steep driveways will not be demolished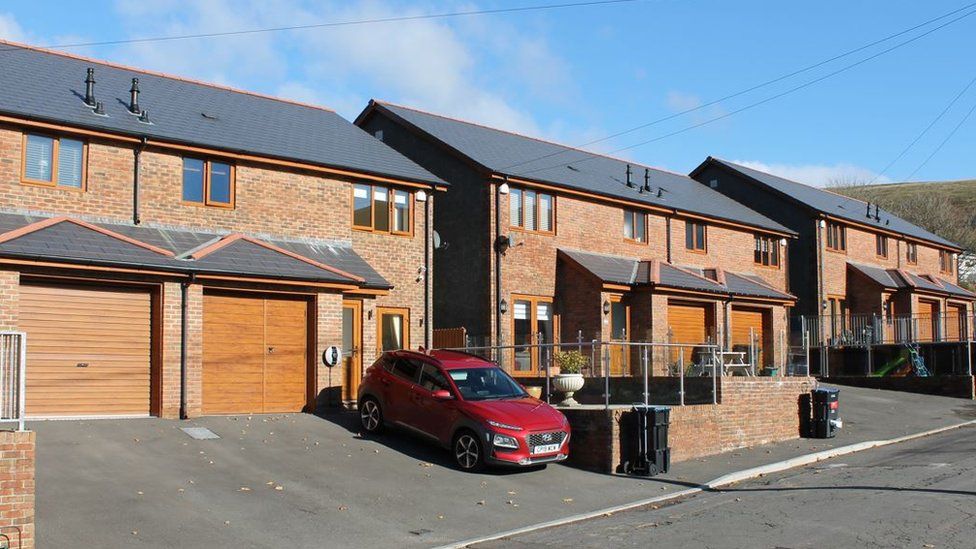 A row of seven homes which faced demolition because the driveways were too steep, have been saved.
There were fears cars could roll down the street after builders broke planning conditions for the houses in Rhes yr Ysgol, Blaina, Blaenau Gwent.
Catherine Fidow, who has lived on the street for three years, had said: "It just doesn't make any sense."
But in a reprieve for residents, councillors have retrospectively granted planning permission.
Works will have to be carried out to garden walls to improve visibility when driving in and out of the properties, but no changes will be required to the steepness of the driveways.
After an anonymous complaint, it emerged the homes did not have proper planning permission.
People have been living in the houses since 2018.
The application was originally refused in 2014, but overturned by Welsh government planning inspectors, and the homes were built.
Builder D3 Property Developments lodged an amended planning application to be allowed to keep the homes, which came before the council in July.
Resident Andrew Pugh previously told councillors they "didn't know of the issues" when they bought their property.
"As far as we were aware everything was above board and legally transparent," he had said.
The council had deferred the application in a bid to "get together and try and sort things out".
The developers had submitted changes to their plans to improve visibility, but highways officers still believed the problems had not been solved and the development remained "a potential hazard to the public highway".
At the meeting on Thursday, councillor Wayne Hodgins said residents were "the victims" who had "gone through more than enough".
And councillor John Hill said residents, as "responsible people", would "make sure they don't park at the top of the drive if we have 3ft (91cm) of snow".
A council planning officer proposed a timescale for the work of two months, but concerns were raised that this may not be possible during the winter months.