Climate change: Wales pledges to stop licensed oil and gas production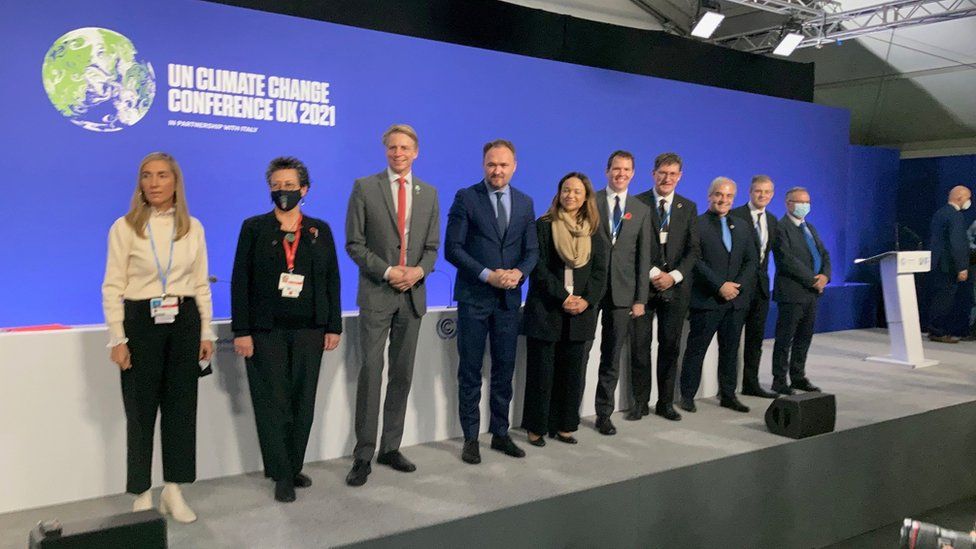 Wales has joined a new global alliance of countries pledging to stop licensing oil and gas production in an effort to fight climate change.
Ten national and regional governments have signed up in a move led by Costa Rica and Denmark.
Deputy climate change minister Lee Waters said it showed Wales "at the forefront" of global warming action.
The founding members also include France, Greenland, Ireland, Quebec, California and New Zealand.
Mr Waters said: "We have committed to using all of our powers to phase out fossil fuels, through our planning frameworks, licensing powers and our policy frameworks which set out a strong presumption against new fossil fuelled power plants."
Within the UK, the Welsh government is going it alone with neither Westminster or Scottish governments involved in today's announcement.
Under the Beyond Oil and Gas Declaration, the governments say they will ensure a "managed phase out of oil and gas."
It will be followed by "concrete action" - including a commitment to end new concessions, licensing or leasing rounds.
There is also a promise to set a date for ending oil and gas production that aligns with the Paris Agreement goals of keeping the rise in global temperatures well below 2C.
Powers over licensing for oil and gas extraction on land as well as in intertidal areas, estuaries and coastal inlets were devolved to the Welsh government in 2018.
Since then no new licenses have been granted and a number of extant licenses have been surrendered or terminated, said the deputy climate change minister, Lee Waters.
Decisions over what happens further out at sea remains with the UK Government and Oil and Gas Authority - though reserves off the Welsh coast have been described as "meagre."
While Wales has a long history of coal mining, there has been minimal oil and gas extraction to date.
The last petroleum exploration development license in Wales was awarded by the UK Government in 2008.
But in recent decades approaches have been made by firms keen to search for shale gas through a process known as fracking, as well as exploring the potential for extracting coalbed methane.
Pembrokeshire is an important gateway for imported oil into the UK and is home to one of Europe's biggest gas fired power stations.
Its operator RWE is hoping to be part of plans to build large floating windfarms off the Welsh coast as part of the transition to a low carbon economy in future.
Mr Waters said: "Our vision is for a decarbonised energy system which provides wider economic and social benefits for Wales than the system we see today and we believe that replacing fossil fuels with low carbon sources will help Wales create the industries and jobs of the future."