Prostate cancer: AI pathologist used to help diagnosis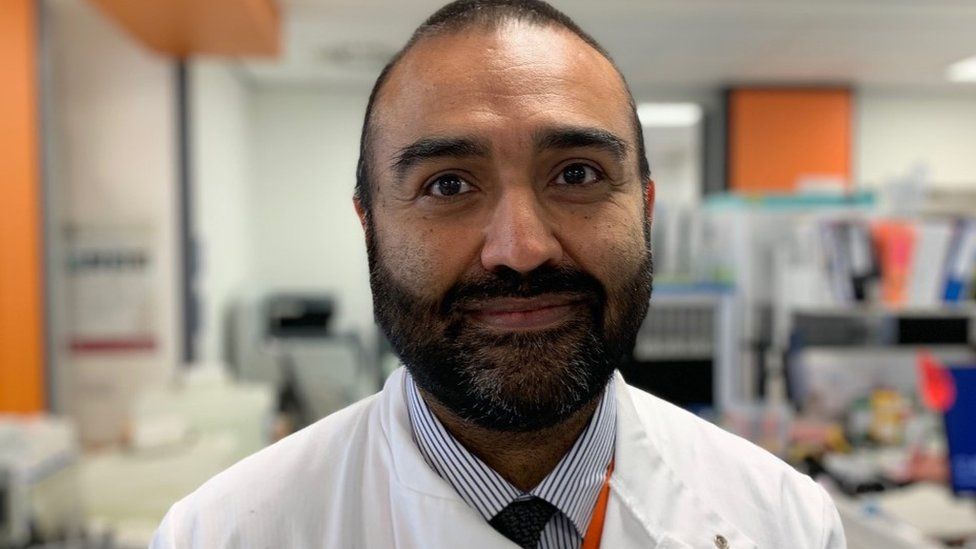 Artificial intelligence could improve cancer diagnosis and help save lives, a senior doctor has claimed.
Betsi Cadwaladr University Health Board has rolled out an "AI pathologist" to help test men for prostate cancer.
The software uses algorithms to detect cancer, and is the first to be used within a clinical setting in the UK.
Of 105 patients tested in north Wales so far, it has correctly diagnosed every one.
Researchers are seeing if they can use a similar technique to diagnose breast cancer.
Consultant pathologist Dr Muhammad Aslam, told BBC Wales that "this technology is a game changer".
The application, called the Galen platform, and developed by AI software engineers Ibex Medical Analytics digitally checks slides taken from biopsies of suspected prostate cancer patients.
Dr Aslam said the process of manually checking slides usually can take up to an hour, but with the app the cancers can be seen and measured in "just a few minutes".
"However I'm not so focused on the time saved - it's the quality of the work," he said.
"The Galen application is like another consultant doing all the work and bringing the results to me.
"We are the first team and the first health board to use this technology for clinical diagnosis in the UK. We are the pioneers."
While the Galen app can slash the time it takes to analyse biopsies, Dr Aslam said the major advantage was its accuracy.
Cancers can sometimes be so small they are easy to miss. Prostate biopsies can also be extremely painful, and accurate diagnosis reduces the risk of the procedure needing to be repeated.
The AI can read multiple slides from multiple patients in just minutes. The app then grades the samples using a traffic light system, which can alert a consultant to the most urgent cases.
A high probability of cancer produces a red marker, those that require further analysis are amber, and benign shows up as green.
The AI system also shows the extent of the tumour, as well as whether it is likely to become more aggressive.
"The problem with prostate biopsies is that it's a very painful procedure to go through and get the sample," Dr Aslam added.
"If the sample is not appropriate or it's not appropriately read, the outcome is either that we miss the cancer, which means a catastrophic outcome, or we have to repeat the biopsies."
"To eliminate those risk factors, having another pathologist - which is AI in this case - will actually reduce the risk factors but increase the quality and efficiency significantly."
Alwyn ap Huw, 62, from Glan Conwy, who was diagnosed with prostate cancer in 2018 said he would "welcome anything that speeds up diagnosis".
"The biopsy procedure is extremely painful - the most painful thing I've ever been through in my life," he said.
"Because it's such a painful process, anything that reduces the need for another test is bound to be a good thing. I should think it could improve the lives of many men."
"We are nationally very short of histopathologists. We cannot have two pathologists looking at the same samples," added Dr Aslam.
"But AI brings this technology into us, as a second pathologist. So it's an AI consultant sitting with me and helping in the diagnosis."
Asked if the system could eradicate misdiagnosis of prostate cancer, he said: "I'm pretty sure, significantly….by implementing this technology we are looking at a significant reduction of this risk.
"I am extremely excited. We have been looking under microscopes for hundreds of years. By bringing the digital pathology and the algorithms, we are going into the 21st Century, showing people that we can diagnose things in a more objective manner.
More than 2,500 men are diagnosed with prostate cancer annually in Wales, and each year about 600 die. Dr Aslam hopes the programme will eventually be used nationally.
He said a fast, accurate diagnosis allows patients to be put on the correct cancer pathway, and could potentially giving them a greater chance of recovery.
Dr Aslam said the UK government funding for trials was not available in Wales, but some funding has been granted by the Welsh government's Small Business Research Initiative.
Work is now under way to see if algorithms can be used in a similar way to quickly and accurately diagnose breast cancer.
Small pilot studies have already been done, and the next step is to start diagnosing breast cancer in a clinical setting.
"The starting point was from the prostate, and I think we've got our proof of concept - it works well. Now, our next project is on the breast," Dr Aslam said.