World champion mountain bikers move into bike making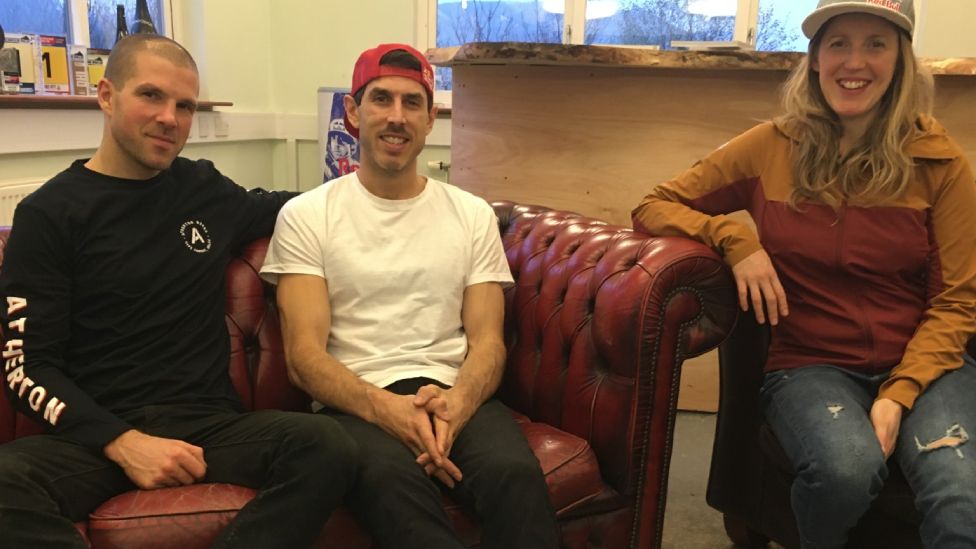 A family of world champion mountain bikers is setting up a new plant to manufacture bikes.
Rachel Atherton and older brothers Dan and Gee have dominated the sport for years, winning 49 world cups and eight world championships between them.
Their focus has shifted gear towards the new headquarters in Machynlleth, Powys, which Rachel described as a "dream come true".
It employs 12 staff but they hope to recruit up to 30 within three years.
"We live just down the road, so it's so cool. I can't believe it's actually happening," said Rachel.
Gee, who is still recovering from a major bike crash six months ago, said the location was ideal and "stems from something as basic as it being incredible for riding".
"That was what drew us to the area originally," he said.
Atherton bikes are made using a process called additive manufacturing, with a 3D printer to create parts, including titanium brackets and lugs - fittings that join the bike's carbon fibre tubes together.
The company moved from Monmouth to Machynlleth to be close to the Dyfi Bike Park, which Dan Atherton established in 2019, attracting about 400 cyclists on weekends.
"Less than a mile away and we're on some amazing world class terrain so it's perfect," said chief executive Dan Brown.
"Machynlleth, and south of Snowdonia, in general has some of the best riding in the world. And it's an untapped source.
"We saw the potential in that and very much want to work with the local community to develop the area as a whole with tourism, but also with manufacturing and tying in the bike company with that."
In June, Gee suffered the worst crash of his career when he fell 100ft (30m) while riding a rocky mountain ridge near Dinas Mawddwy in Gwynedd.
He broke multiple bones, including his femur, radius, ulna and ribs, as well as sustaining a fractured eye socket and concussion.
"The physical side of it is one thing to recover from, but the mental side, you know, you remember those things," he said.
"Occasionally it does go wrong and when it does go wrong, you know, this is the kind of injuries you're facing. And it was important for us to be honest," he said.
"I probably won't go back to that mountain."