HS2: Transport for Wales boss wants equivalent funding for Wales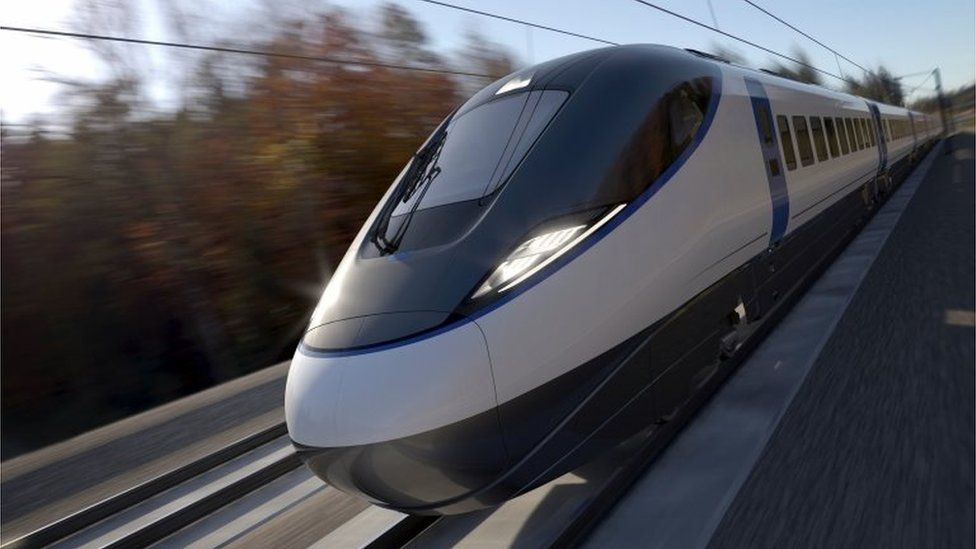 Wales should not lose out on funding because the HS2 high-speed rail line is classed as a Welsh project despite not entering the country, a rail boss said.
Transport for Wales (TfW) chief James Price said the railways needed significant investment but it was "very difficult to do" without more cash.
The Department for Transport (DfT) said it would bring more frequent trains.
It is currently classified as an England and Wales project by officials in Westminster, meaning the Welsh government does not receive a proportionate amount of what is known as a top-up "Barnett consequential".
"Clearly, I don't think that's right," said Mr Price.
"If you look at the figures, some of the UK government's own figures suggest that whilst HS2 is good for the country as a whole, it's not necessarily good for Wales.
"And in order for it to be good for Wales, Wales needs to invest significantly in rail infrastructure and without those consequentials, obviously, it's very difficult to do that."
Mr Price called for full "consequentials" from HS2 to come to Wales.
A report by the Commons' Welsh affairs select committee said the Welsh government received "approximately £755m in Barnett consequentials" between 2015 and 2019 as result of DfT spending money on HS2.
However, because the project is classed as "England and Wales", it would "not benefit in the same way as Scotland and Northern Ireland from Barnett consequentials".
The report also said HS2 could "yield direct benefits to Welsh rail passengers if it is accompanied by enhancement to the north Wales mainline".
What are Barnett consequentials?
When the UK government decides to spend more or less on public services in England, the Barnett formula is used to decide how much money the other nations receive.
This sum is called the Barnett consequential.
It reflects differences in population size plus the range of devolved public services in each nation.
Since this money is not ringfenced, the devolved governments are free to spend the consequential on services other than the UK government's area of spending.
From a climate change perspective, Mr Price added: "My personal view is that we will have to see Network Rail and the UK government electrify the rest of the network in Wales.
"At the minute there looks like there's very little other technology that's available to do it."
He added electrification beyond current plans for the London line to Cardiff and the valleys lines "does feel like something that we absolutely need".
Speaking to Politics Wales, he said Wales' current service was "probably a mid-tier UK rail system which, when we think about it, compared to the best in the world is probably not very good and we want to do a whole lot better, which is why we are on a journey to try and transform rail across Wales".
The pandemic has resulted in a drop in rail passengers, with current numbers "above 71% of pre-Covid" use of Welsh services, according to Mr Price.
But he said the figures were "varying massively across the network, so some parts of the network are far busier than they were before, some parts of the network are less busy".
Mr Price said: "Until we get back up to around 100%, the extra subsidy that was coming in will have to continue to come in or we'll have to run less services."
The DfT said HS2 would "provide faster and more frequent train services to Wales", with the interchange at Crewe bringing "many parts" of the country within two-and-a-quarter hours of London.