School masks: Exempt Wrexham pupils 'separated from others'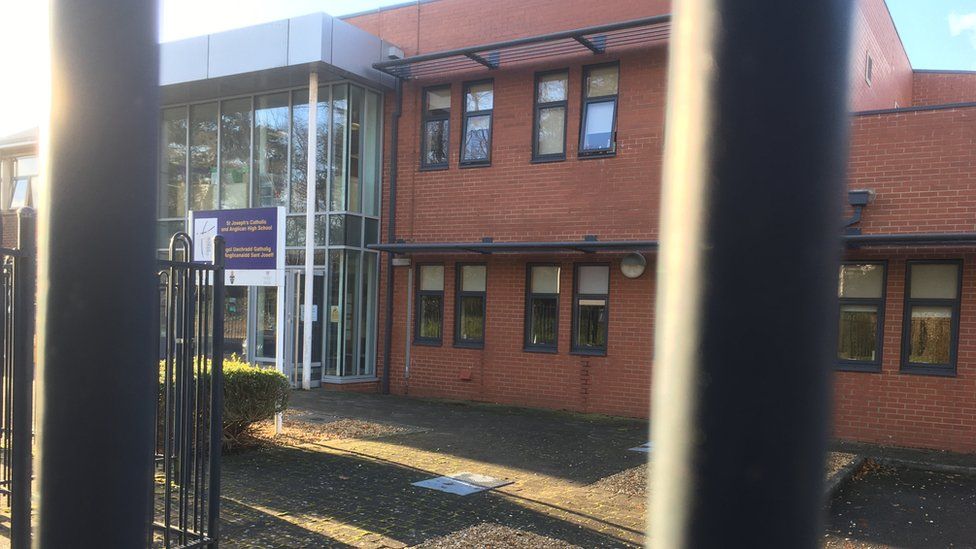 Pupils exempt from wearing face masks were separated from other children at their school, it has been claimed.
Parents of two children at St Joseph's Catholic and Anglican High School in Wrexham said they were put in a "non-mask wearing bubble."
This was despite previously being considered exempt from face covering rules, which would allow them to mix with other pupils.
The school said it acted "to ensure all our pupils and staff remain safe".
It also said it needed to be "aware of all medical needs a child has," and asked parents of medically exempt children to get in touch to discuss how they can attend school safely.
Following this change, children at the 700-pupil St Joseph's who were not covering their faces were placed in a separate bubble.
But parents of two of the pupils involved claim they were exempt from wearing a mask.
'Didn't feel comfortable'
Jason Owen's son has conditions including autism and ADHD. But he was allowed to attend school and mix with other pupils without a mask, when doing so was mandatory earlier in the pandemic.
Mr Owen said last week his son was told he would need to cover his face.
"Our son got home and said 'I've got to wear a face mask now', and me and my wife both said 'no, you don't need to, you're exempt, you've been exempt'," he said.
Wrexham GP Dr Peter Saul told Radio Wales Breakfast he could understand the need to create bubbles to keep children safe, but it needed to be done in consultation with parents and medical professionals.
"You can't make hard and fast rules for anyone on mask wearing... it is a very complex decision," he said.
Dr Saul added that there were people who falsely claimed exemption, which he said put schools in a very difficult position.
There is no suggestion of false exemption claims in the school.
"There are lots of different options if you can't wear one of the standard masks," he said.
Following discussions with the school, Mr Owen's son tried using a visor instead, but said he "didn't feel comfortable" wearing it.
He was later placed in the "non-mask wearing bubble" along with other pupils.
"They know they've got children there with disabilities, they know their conditions, so they know what to do."
"If exemption was good enough before, exemption should be good enough now," he said.
'Guilt tripped and picked on'
After Mr Owen provided the school with a letter from his son's GP, he was allowed to mix with other children outside the bubble, without having to wear a mask. But he claims that should not be necessary.
Another parent claimed her child was scared, having been put in a bubble for those not wearing masks.
The parent, who wants to remain anonymous, said her son could not stand wearing a mask because it caused dizziness and breathing issues.
She said he has been wearing a lanyard in the community to show he is exempt from wearing a mask.
But with the guidance changing in schools, her son was questioned by a teacher about his exemption.
"My son said that he felt he was picked on and guilt tripped, he was very upset when he came back home, very anxious," she said.
A spokesperson for St Joseph's said that all schools had a duty to safeguard its pupils when in the school environment.
The school said it followed Welsh government policies to keep them and everyone at the school safe, adding that the wearing of face masks was a requirement in all secondary schools in Wales.
St Joseph's has asked the parents of those who are exempt from wearing face coverings on medical grounds to get in touch to discuss their child's attendance.
The spokesperson added that "parents who may still have concerns about the action the school has taken are advised to contact the school to discuss those concerns directly in order to resolve them.
"If the parents remain unhappy after speaking with the school they should make a formal complaint which will be thoroughly investigated."