RSPCA: Pet monkey offered cocaine and flushed down toilet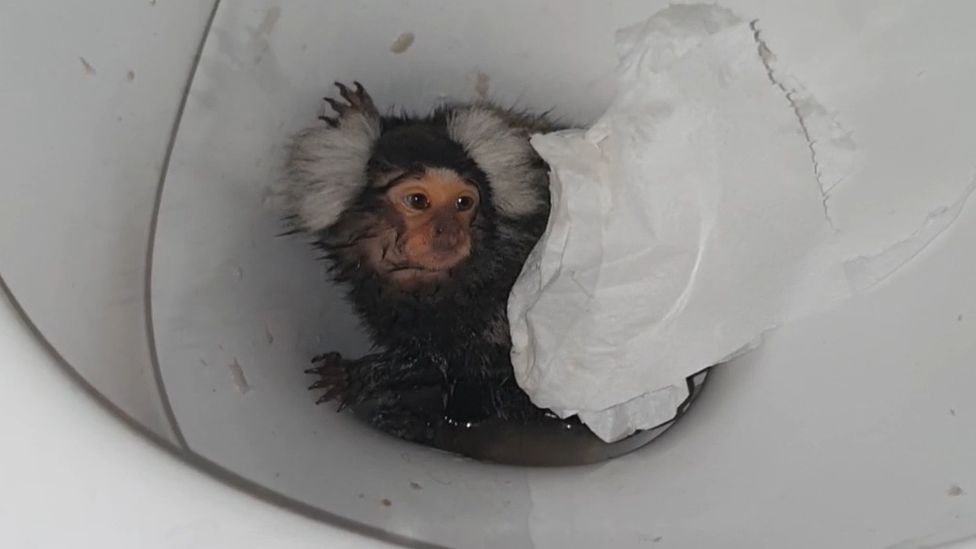 Footage has shown a woman flushing her pet marmoset monkey down the toilet, and offering it cocaine.
Vicki Holland, of Wordsworth Road, Newport, has been banned from keeping animals for life.
The 38-year-old was also handed a 12-week jail term at Newport Crown Court, suspended for 12 months.
Holland pleaded guilty to three offences, and must also pay £420 in costs and a £128 victim surcharge.
Sophie Daniels, of the RSPCA, said she was "immediately and gravely concerned" about the animal's welfare after seeing the footage.
"Videos from the defendant's phone showed Holland offering the marmoset cocaine, while another showed the clearly terrified marmoset down a toilet bowl," she said.
"Holland was shouting, swearing, laughing and at one point in the clip, the toilet is flushed, showing the petrified animal struggling to cling onto the side of the bowl," Ms Daniels added.
"An independent vet soon confirmed that the marmoset was suffering unnecessarily as a result of the way she had been treated."
The monkey's treatment was brought to the attention of the RSPCA after videos were found on Holland's phone by Gwent Police.
After Gwent Police executed a warrant at Holland's home address, she claimed she had sold the marmoset a week earlier.
The marmoset was subsequently found and signed into the care of the RSPCA, before being transferred to specialist primate experts at Monkey World in Dorset for ongoing care.
"Thankfully, this monkey is now getting the care they deserve after such shocking mistreatment," said Ms Daniels.
The RSPCA has said it was "totally opposed" to the keeping of any primate as a pet, because it is so hard to meet their complex needs in a domestic environment.