Llanbedr bypass: Campaigners fight on after approval u-turn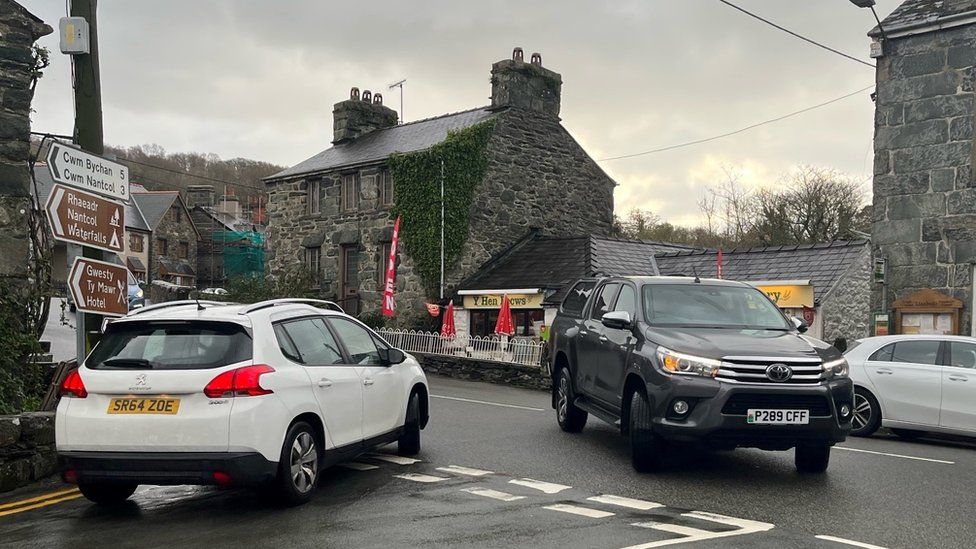 Villagers have vowed to fight on after a bypass, which was approved after 60 years of campaigning, was scrapped.
About 150 people were at a meeting on Friday voicing their anger that the one-mile (1.5km) Llanbedr Access Road, in Gwynedd will not be built.
They worry it will mean many more years of congestion, particularly in the busy summer tourist season.
The Welsh government said it wanted to look at more sustainable solutions.
A scheme to build a new road around the village was approved by the government in March - a plan which residents have been lobbying for since the 1960s.
It was given the go-ahead because of the narrow bridge in the centre of the village causing severe tailbacks and traffic problems.
Residents also hoped it would help create jobs at the old RAF base, which is now being redeveloped as the Snowdonia Aerospace Centre.
Now, Pobl campaigning group has been formed to persuade the Welsh government to change its mind.
One of the organisers, Jane Taylor-Williams, said: "It came as such a shock when it was announced that the bypass wouldn't be going ahead when we thought it was going to happen at last.
"We're going to carry on with the fight. We can't stop now. There are so many issues in our community which need to be addressed and where a bypass would make a difference."
Gwynedd council leader Dyfrig Siencyn told the meeting that both the council and residents should continue to fight for the bypass.
"The recommendation to scrap the Llanbedr bypass came from a panel of experts who were looking at the amount of carbon dioxide the new road might generate," he said.
"But I'm not convinced by their findings, they show a lack of understanding about road use in rural Wales."
The Welsh government said: "We're committed to working collaboratively with Gwynedd to develop sustainable solutions to address the issues surrounding traffic in the village and access to the airfield, such as those suggested in the panel chair's report."