Covid in Wales: Denbighshire and Anglesey move to online learning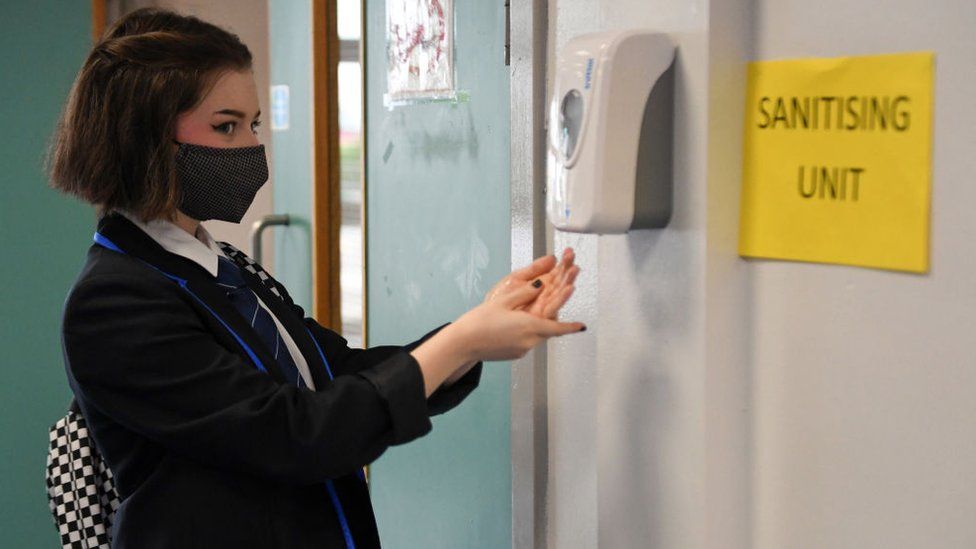 Schools in two Welsh counties are moving to online learning from this weekend.
In Denbighshire face-to-face learning will end on Friday and on Anglesey pupils will attend online classes where possible from next Monday.
Concerns about Covid and Omicron are increasing. On Friday, Anglesey had the highest coronavirus case rate in Wales.
The authority's education member, Huw Hilditch-Roberts, said the "difficult" decision was taken to give as much notice as possible of the end face-to-face learning on Friday.
"Online learning will continue on Monday and Tuesday up to the end of term," he said.
On Anglesey key workers' children, vulnerable children and those with parents who cannot work from home will attend school where required.
Council leader, Llinos Medi, said, "This authority will do what is needed to safeguard our communities.
"Coronavirus cases have soared on the island during October, November and December, with the majority of cases seen in children and young people."
"Pupils will continue their education, but a chance to switch to blended learning for the last few days of the term could prove vital in disrupting the high levels of transmission we have seen recently from continuing into the Christmas period and beyond."
Elsewhere in Wales, other councils said they have not plans to make similar changes to lessons as things stand.
Gwynedd Council said it was "continuing to closely monitor and respond appropriately to all the available scientific data" in case it needed to change its policy.