Covid: Some shielders still in lockdown 19 months on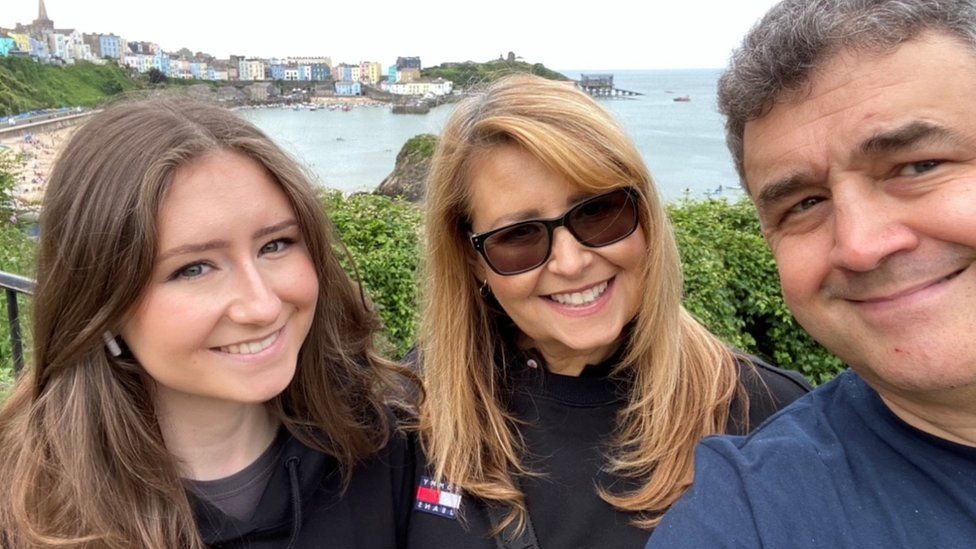 While many have enjoyed the freedom of relaxed Covid restrictions, it has been a different story for those shielding.
Although shielding officially ended in April, for many life has never returned to anything resembling normality.
"I still haven't dropped my shield completely," said Helen Williams, 55, who has effectively spent 19 months in a state of lockdown.
Helen is one of the 130,000 people in Wales who were told to shield at the start of the pandemic.
She had a life-changing kidney transplant 10 years ago, but because of her immune response to the operation she now has to take two immunosuppressant drugs and steroids for life to ensure her body does not reject her kidney.
The immunosuppressants mean her immune system is weakened, making her extremely vulnerable to coronavirus.
"I live in a permanent state of anxiety when I go out. If I have to go shopping and I see people aren't wearing masks, I just recoil," said the mother from Margam, Neath Port Talbot.
"Whereas most people are doing the Christmas going out and socialising, I'm withdrawing and that makes me sad.
"A lot of people might catch [Covid] and recover, I might catch it and die, but the other thing is if I don't die I would very likely lose my transplant."
Deputy chief medical officer Gill Richardson has said people who are extremely vulnerable should "do their own risk assessments" before they go out.
Dalila Tremarias, 34, from Cardiff, said those who were clinically vulnerable were continuing to have restricted lives.
Dalila, who has a four-year-old son, has lupus SLE and lupus nephritis, an auto-immune condition that attacks her body. She has been on immunosuppressants for more than 10 years.
'So difficult in isolation'
"I wish I could just go and plan Christmas, relax and enjoy again that time with family, friends and loved ones," said Dalila.
"I was going to be able to meet loved ones and friends and to have a different Christmas this time compared to last year, which was so difficult in isolation."
But she said the emergence of the Omicron variant has made her reconsider her Christmas plans, and she thinks people who are vulnerable need more information on the variant.
"We still need to know the data related to this new variant and how to safely move forward as a vulnerable person, considering that we have children, families and jobs," she said.
"We need to know how this variant affects our situation because it's different to the general population."
Johanna Greenaway, 79, lives in Caerphilly with her husband. She was diagnosed with chronic lymphocytic leukaemia in 2009 and is having treatment.
Her medication makes her extremely vulnerable, and means it's very unlikely the grandmother-of-five has received any protection from the vaccines.
'I've missed out on the joy of Christmas'
Johanna used to regularly attend church and was a member of the Women's Institute. She's also volunteered for Macmillan fundraising group and Blood Cancer UK.
"It's the general everyday kinds of things that I miss. Just meeting with friends for coffee," she said.
"I don't feel like it's Christmas. I haven't participated in any shopping for the family, I haven't been out to any places where you would get the Christmas atmosphere.
"It's the celebrations and the church services and things like that, I've missed out on the joy of Christmas."