Covid: Swansea's Cinema & Co boss gets suspended sentence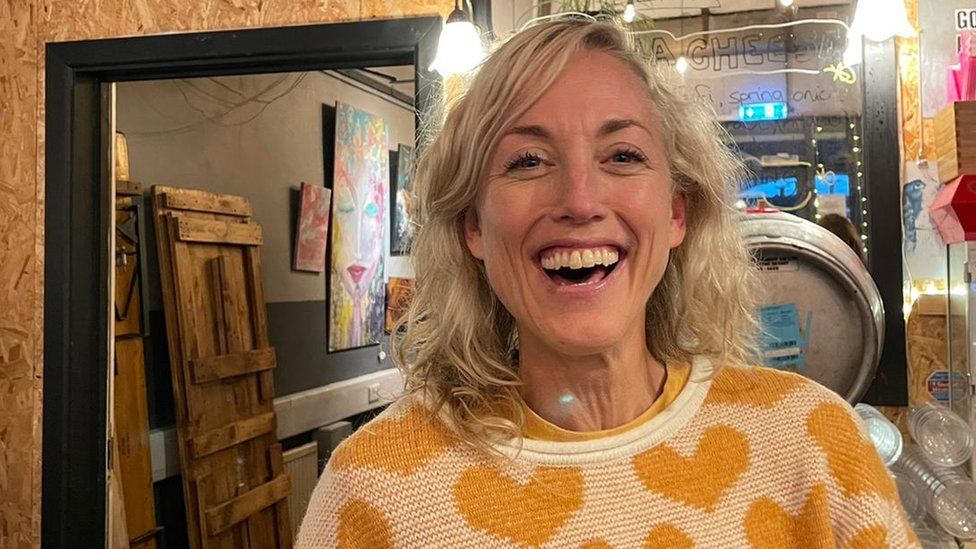 The owner of a Swansea cinema at the centre of a Covid pass row has admitting being in contempt of court.
Anna Redfern, of Cinema & Co was given a 28-day prison sentence, suspended for nine months, after admitting six charges at Magistrates' Court.
She reopened her cafe and cinema on multiple occasions after being ordered to close by a district judge on 30 November.
Redfern, of Uplands, Swansea, assured Judge Neale Thomas her stand had ended.
When asked if "all of this" was at an end, Redfern replied: "Yes, your honour."
She also admitted to four charges of failing to comply with court orders and enforcement officers, as well as criminal damage.
Covid passes were made mandatory for cinemas in Wales on 15 November, but Redfern said she would not be enforcing them, claiming they were an infringement on human rights.
Redfern was represented in court by Jonathan Gwyn Mendus Edwards and former MS Neil McEvoy, who said he was acting as her "paralegal".
15 November - Covid passes become a legal requirement in cinemas, theatres and concert halls in Wales
16 November - Anna Redfern says she will not enforce the law at Cinema and Co, calling it "unlawful" and an "infringement on our human rights"
18 November - Swansea council orders Cinema & Co to close but it remains open
24 November - Swansea council says it is taking court action over a number of Covid breaches
25 November - Redfern fails to turn up at court
26 November - The Welsh government orders Cinema & Co to close but it remains open
30 November - A district judge orders Cinema & Co to close, Redfern is ordered to pay the city council's legal costs of £5,265 - She is told an application will be made to find her in contempt of court if she reopens
1 December - Cinema & Co opens for a screening of Santa Claus: The Movie
3 December - Swansea council says it will consider whether Cinema & Co will have to pay back some of the £53,000 it received in Covid grants
10 December - Cinema & Co is bolted shut
14 December - Redfern admits contempt of court and four breaches of coronavirus regulations
Mr Edwards initially told the judge, Redfern neither admitted nor denied being in contempt of court, but after several hours of discussions with his client, he said his client was admitting the charges.
Lee Reynolds, representing Swansea council at the hearing, told the judge that since Mr Edwards has been representing Redfern, there had been more of a "willingness, belatedly, to comply".
Mr Reynolds told the judge that the local authority was prompted to investigate the premises after the owner, Redfern, said on "multiple media and social media outlets" that she would not be asking customers for Covid passes.
When council enforcement officers visited the premises, they discovered "a number of breaches" of coronavirus legislation, he said.
He told the court after Redfern reopened in defiance of the local authority's order, her locks were changed by the council's officers, but she changed them back again in two hours.
Following the court order on 30 November, Mr Reynolds told the judge the cinema had opened on five occasions.
He said: "It didn't need to get this far" and a "simple indication" things would be put right would have satisfied the council.
Mr Edwards said Redfern had "strong principles and they are in disagreement with the policies and laws of elected parliaments".
"She is not alone in holding that opinion," he added. "She has chosen to express it in ways open to her.
"This could have been dealt with earlier, as my client has admitted to me today."
He finished by asking the judge not to send her to prison.
Council 'pleased' with outcome
Judge Thomas imposed a combined fine of £15,000, she will also have to pay court costs of £8,940 and a surcharge of £190.
This fine was following a reduction of 30% due to her guilty plea.
He said: "The first sensible thing Ms Redfern has done for some time is listen to legal advice and plead guilty and admit the contempt.
"Even at this late stage in the case that is a significant development."
After the end of the hearing, Swansea council said it was "pleased" with the outcome.
It said: "Hundreds of businesses in Swansea have done what they have needed to, for the benefit of their customers and their staff.
"We have tried to work with Cinema & Co to ensure their business is safe. However, all our efforts, including enforcement were not taken on board.
"We hope Cinema and Co will now work with us to introduce measures so that it can operate safely."