Mental health impact of acne not taken seriously - influencer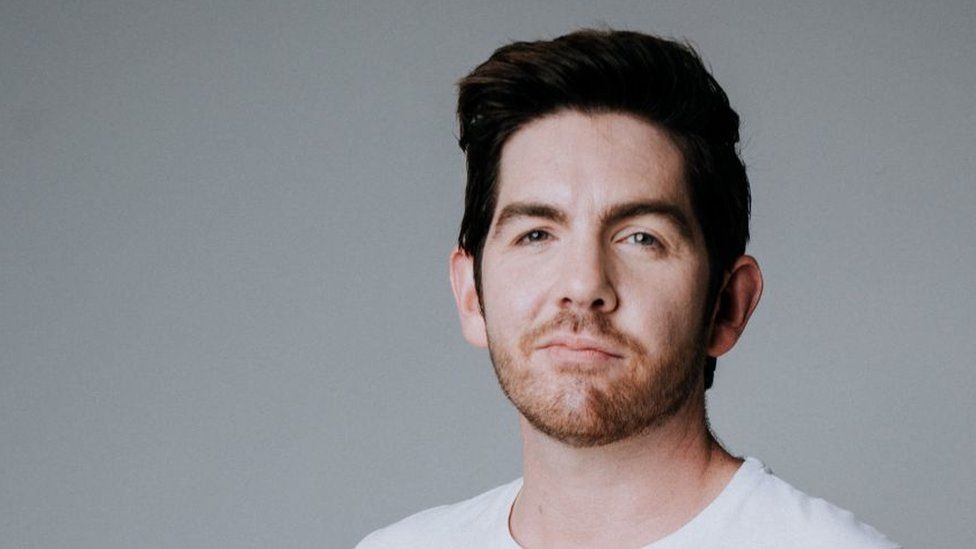 Schools and brands do not do enough to protect the mental health of teenagers with acne, a skincare influencer says.
Scott McGlynn 34, from Caerphilly, dropped out of school after he was bullied about his acne and sexuality.
He said it affected his mental health and more needs to be done to support and validate young people with acne.
The Welsh government said it was "committed to challenging negative attitudes and behaviours that underpin bullying".
A spokesman said mandatory training is in place that "focuses on developing an understanding of the human body, including people's feelings about their bodies and how they can be represented, and knowledge of the significant changes people experience during puberty, which could include acne".
Acne is very common in teenagers and younger adults, with about 95% of people aged 11 to 30 affected to some extent.
It is often caused by hormone changes - such as during puberty or pregnancy - and can be hereditary.
Many people will grow out of their acne as a teenager but about 3% of adults over 35 still have it.
'I wouldn't have struggled if I had the support'
Scott regained his confidence after delving into his sister's skincare and uses his online platform to discuss it alongside working as an actor.
His Instagram series Celebrity Skin Talk has featured celebrity guests such as Rebekah Vardy, Keisha Buchanan of the Sugarbabes, and Love Island's Laura Anderson.
He said: "I honestly don't think I would've struggled so badly with anxiety and depression if I had support in school.
"I think it would have benefitted me but also helped the bullies to understand the situation and maybe not have bullied me so badly."
At the time, Scott said he "couldn't think or talk about anything else but my skin", and as a result failed his school exams because he "did not have the strength" to deal with it alongside bullying.
He said: "I needed the help and support at school to understand what I was going through.
"I needed to feel confident and empowered, instead I felt attacked and inconsequential.
"I'm sad that if only I had support it might've been different."
Scott, who eventually grew out of his acne, said he wanted to see support groups in every school, but in particular he wanted to see LGBTQ+ teenagers offered support related to body image because they may already be dealing with issues related to their identity.
He said peer-led groups could make all the difference and help normalise acne.
He said make-up and skincare brands also needed to take some responsibility for the way they represent skin and urged them to use "real people" instead of photoshopped images and models.
He said: "If we see a 20-year-old model with glowing, not a spot on their face, skin we can't relate."
A Welsh government spokesperson said: "As learners develop, teaching and learning focuses on exploring how physical changes have an impact on well-being and relationships, ensuring the representation of LGBTQ+ experiences and lives."
'My mum put make-up on me at nine years old'
Isabel Thomas, 20, from Cardiff, developed acne at just nine years old, which she said "crushed" her self-confidence.
She relied on her mother, who also had acne, to help inform her and said schools could have done more to educate her and her peers about the causes of acne.
She asked her mum to put make-up on her face as the bullying got worse, and said there was "still a culture around acne being just teenage spots" and was "made to feel guilty" for being upset.
She was repeatedly told to "just wash your face", which she said "traumatised" her.
"There were many times where I wouldn't leave the house as I felt so humiliated in the way I looked and I had many breakdowns behind closed doors," she said.
"I wish I was able to tell the people how badly it was affecting me but at the time I didn't want to draw any more attention to my skin."
Her skin improved after she was eventually prescribed drug Roaccutane, which she described as "a miracle worker" and that she "felt lucky to have a doctor take me seriously".
By the time she was learning about the science of acne, "the damage of the last few years of name calling had already been done".
"It was a huge part of my growing up and I did try to hide how much it really affected me because I felt I wasn't allowed when there are bigger problems in the world.
"Now looking back, I do understand that it was OK when I felt so awful in myself and want other teens to realise this."