Money: £19bn in old UK banknotes and coins not cashed in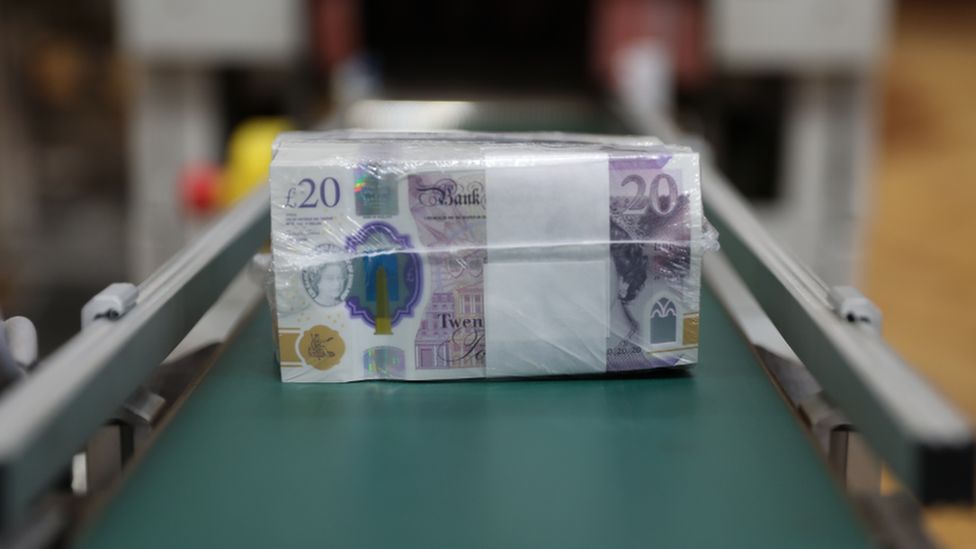 Almost £19bn in old banknotes are still being used, six months before paper £20 and £50 notes stop being legal tender.
Paper £10 and £5 banknotes have already been withdrawn, while paper £20 and £50 notes cannot be used after 30 September 2022.
They have been replaced with new plastic notes with a series of security features.
However, the Bank of England said it will continue to swap old notes for their face value.
There are also £105m of old one pound coins in circulation, according to the Royal Mint.
Details of the cash still in circulation or hiding in homes was revealed in Freedom of Information requests by BBC Wales.
The Bank of England said 775 million paper banknotes remain in circulation.
113 million paper £5 notes remain in circulation
73 million paper £10 notes remain in circulation
360 million paper £20 notes remain in circulation
209 million paper £50 notes remain in circulation
The paper £5 notes were withdrawn in May 2017, and the paper £10 notes in March 2018, since when they have not been a legally accepted means of payment.
In addition to the paper cash, the Royal Mint said about 105 million old-style £1 coins have not been returned.
Out of the 1.6 billion that have been returned, about 1.45 million were counterfeits.
The round £1 coin was replaced by the 12-sided version in October 2017, to crack down on counterfeiting.
The old-style coin can still be deposited at high street banks - but cannot be spent in shops.
According to the Royal Mint, a company wholly owned by the UK Treasury, about 138 million round £1 coins were melted down to make some of the new ones at its base in Llantrisant in Rhondda Cynon Taf.
The polymer £50 note featuring the portrait of Alan Turing entered circulation on 23 June 2021, meaning the Bank's entire collection of currently-printed banknotes is made of plastic.
A spokeswoman explained that "all genuine Bank of England banknotes that have been withdrawn from circulation retain their face value for all time".
People can also post old notes to the bank in Threadneedle Street, in the City of London, to be paid into a bank account, by cheque or, "if you live in the UK and your exchange is worth less than £50", swapped for new-style polymer ones.
Old notes can also be taken there in person but the the bank warns of "long queues and waiting times up to an hour".
If you have a UK bank account, the Bank of England said the simplest and quickest way to exchange paper £20 and £50 notes "will normally be to deposit them with your bank".
This accelerated a downward trend for the use of notes and coins.
However, cash still accounted for 17% of all payments in 2020, according to the latest available figures by banking trade body UK Finance, making it the second most-popular way to pay after debit cards. Figures for 2021 will be published this summer.
The new £1 coin is described by the Mint as the most "secure in the world" and has a string of anti-counterfeiting details, including a hologram, and micro-sized lettering inside both rims.
It also has material inside which can be detected when electronically scanned by coin-counting or payment machines.