World Cup 2022: Wales staff boycott Qatar over gay rights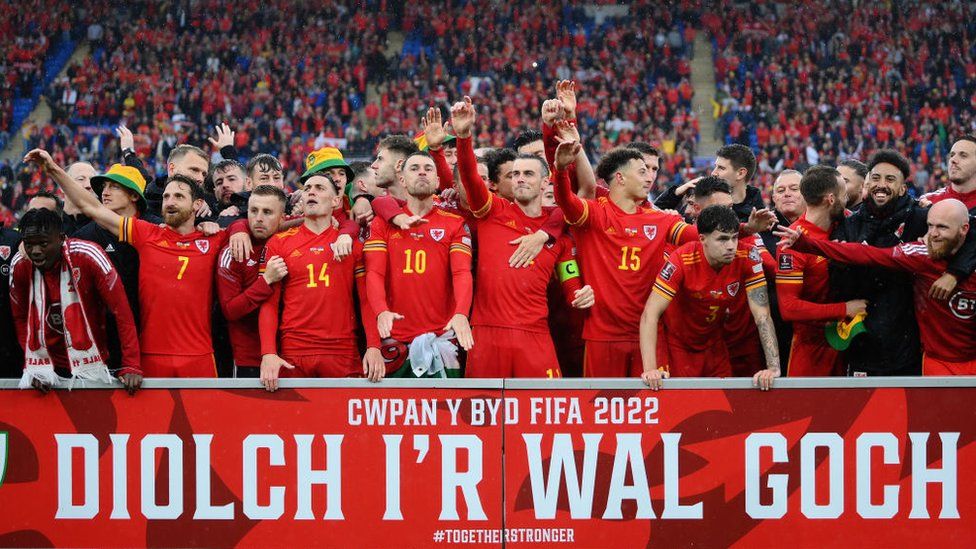 Some of the Welsh national football team's staff will not travel to the World Cup in Qatar because of the country's stance on gay rights.
Head of Welsh football Noel Mooney said the team would use the event as a "platform" to discuss human rights in Qatar, where homosexuality is illegal.
He is also asking Fifa and Uefa to "think very deeply about their conscience" when choosing host nations.
Qatari officials have said it would be a "tournament for everyone".
The decision by Fifa to host the tournament in Qatar has been widely criticised, with the country's wider record on human rights also under scrutiny.
Human rights organisation Amnesty International has "multiple concerns", including Qatar's record on gay rights and its treatment of migrant workers.
Homosexuality is illegal in Qatar and Amnesty said women and LGBTQ+ (lesbian, gay, bisexual, trans, intersex, queer or questioning) people "continue to face discrimination in law and practice".
In an interview with the BBC Politics Wales programme, Football Association of Wales (FAW) chief executive Mr Mooney said the squad hoped to use the World Cup "as a force for good".
He added: "The consensus between the [European] Uefa nations is to use it as a platform for improvement and that's very much what we intend to do.
"We are looking forward to playing a very active role, from the FAW and the Welsh government's perspective, in airing our views."
Mr Mooney said he did not believe it was the "right thing" for the team to boycott the tournament.
But he said some of his friends and FAW staff members "won't be travelling" to Qatar because of the country's stance on gay rights.
He added: "They're not going to go to the tournament, which is absolutely their right to do so.
"The vast, vast majority of people will go and understand also our position that it is a platform to try to improve life there and to have good dialogue on issues like human rights... and migrant workers.
"So, we're looking forward to playing a full part in that and getting clarity on any outstanding issues for travelling supporters."
But Mr Mooney said the Rainbow Wall "will be front and centre of our thoughts as we plan for this World Cup".
The FAW boss said he was concerned about "sports-washing", the use of sports by governments to distract from their human rights abuses.
"We have had a World Cup in Russia in 2018 which was a massive PR success," Mr Mooney said.
"I think anybody who left the World Cup would say it was a great success for Russia.
"We've seen what has happened since [with Russia's invasion of Ukraine].
"There are concerns, certainly I have them, on how sport is being used as a façade, maybe, for something else.
"So, I think that the rights holders, the big global sports institutions like the Olympics, Fifa, Uefa and bodies like that, really have to think strategically and they have to think very deeply about their conscience," Mr Mooney added.
Speaking in the Senedd on Tuesday, First Minister Mark Drakeford said Wales should use its opportunity to raise human rights issues with Qatari authorities "while the eyes of the world are on that country".
Mr Drakeford added: "We are absolutely delighted that Wales will be represented at Qatar, but we should not look the other way from the reservations that we would have as a nation from some of those human rights issues that we see there."
Fatma Al-Nuaimi, communications executive director of Qatar's supreme committee for organising the tournament, previously told BBC Sport: "It's a tournament for everyone, a tournament of firsts, and a tournament where everyone will be welcome."
For more on this story you can watch BBC Politics Wales at 10:00 BST on Sunday 12 June on BBC One Wales, or catch up afterwards on iPlayer.