Covid Wales: All hospitals ask for masks as cases rise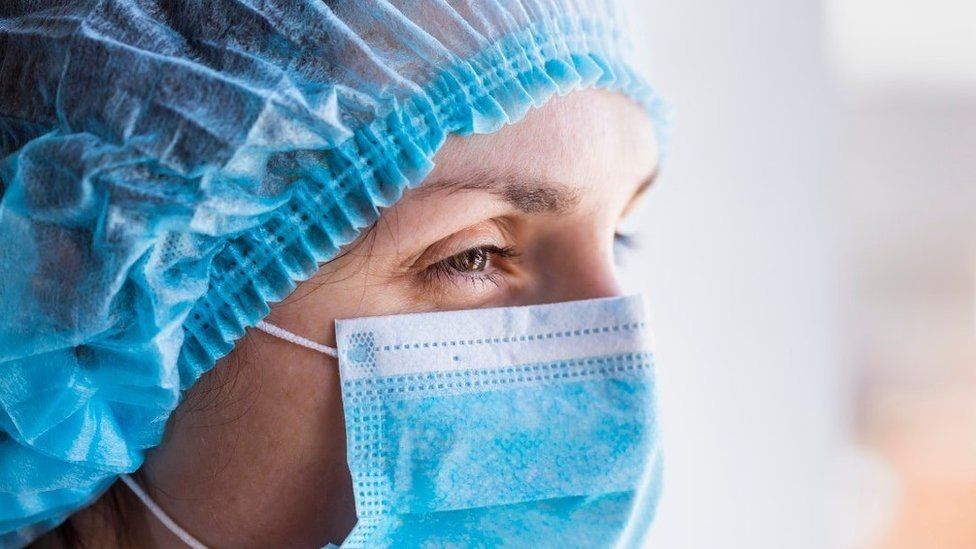 All of Wales' seven health boards are either insisting on or encouraging the use of face masks for hospital visits.
Withybush Hospital in Haverfordwest, Pembrokeshire, has gone further by reinstating a temporary ban on visits.
Hywel Dda health board in west and mid Wales is the latest to require use of masks, following a rise in Covid infections.
Aneurin Bevan asked people to stay away from its hospitals unless "absolutely necessary" due to "extreme pressure".
The health board did not mention Covid as a reason for this latest appeal.
Wales' top doctor, Sir Frank Atherton, reminded people the pandemic had not gone away.
"While we are learning to live safely with it, we still need to think about taking the simple steps to help keep us safe and limit the spread of coronavirus," the chief medical officer said.
"The successful roll-out of the vaccine has significantly reduced cases of serious illness, however the virus is still spreading quickly in our communities."
While masks are no longer mandatory, Dr Sir Frank said people should still wear a facemask in health and care settings and in crowded indoor places.
More catching Covid in hospital
Wales has seen a rise in infections in the past month with one in 30 people testing positive, according to the Office of National Statistics (ONS).
This is also reflected in a rise in patients testing positive for Covid in hospital - while more are catching it when in hospital.
However, the most recent figures still show 88% of patients testing positive for Covid are primarily being treated for something else.
Only 59 (10%) of confirmed Covid patients in acute beds on Monday were being primarily treated for the virus, with 515 patients in hospital being treated for other conditions.
Numbers in critical care with Covid have been averaging 16 a day, up from 10 a week ago - half of these were "incidental" Covid patients and not treated primarily for the virus.
There are 10 times more non-Covid patients in critical care than patients who have Covid, according to Digital Health and Care Wales figures.
In Tuesday's First Minister's Questions, Mark Drakeford said that 1,500 NHS staff are currently not in work due to Covid, with a further 600 isolating because they are close contact with cases.
Mr Drakeford said that was more than 2% of the NHS Wales workforce, and showed the "continuing impact" of the virus.
"Coronavirus has not gone away," he told the Senedd.
Cwm Taf Morgannwg and Aneurin Bevan health boards, both in south Wales, asked people to wear masks at their hospitals last month, as did Betsi Cadwaladr health board which covers the north, and Swansea Bay health board.
Cardiff and Vale health board followed suit.
Powys Teaching health board has required visitors to wear face masks for some time.
Aneurin Bevan, which covers Blaenau Gwent, Caerphilly, Monmouthshire, Newport, Torfaen and south Powys, said the emergency department at The Grange University Hospital in Cwmbran "remains very busy" on Monday evening.
It asked people to attend only if they have "a life-threatening illness or serious injury".
Anyone with a less serious issue is asked to visit a minor injury unit in Newport, Abergavenny, Ystrad Mynach, or Ebbw Vale.
Across Aneurin Bevan last Thursday there were no vacant acute beds at all. In the last few days it has been 98.5% bed occupancy at the health board. That's just 16 available acute beds which are vacant.
Hywel Dda is now encouraging staff and contractors to have a lateral flow test, and report the result, twice a week.
"We have made the decision to reinforce these measures at Withybush Hospital to reduce the risk to our patients and staff," said Mandy Rayani, director of nursing, quality and patient experience.
"We can all continue to take protective measures to reduce the risk of transmission of Covid-19 to protect vulnerable people and the NHS.
People are also asked to attend outpatient clinics alone at Withybush.
A designated partner can attend antenatal appointments or scans at Withybush Hospital midwifery-led unit and any visits considered necessary through agreement with a ward sister or charge nurse.
Latest figures for Hywel Dda health board showed although the number of testing positive for Covid has risen by 79% in a week, only three patients on average were "actively" being treated for Covid in the last week; 97% of positive tests have been "incidental" Covid.
More than half of Hywel Dda patients who tested positive for Covid in the most recent week had caught the infection in hospital, according to separate Public Health Wales figures.
There were 212 "probable" and "definite" cases of Covid infections caught by patients while in hospital in Wales in the most recent week. This is the highest weekly total since mid-April.
91% of the patients concerned were over 60 and more than half over 80, according to Public Health Wales.
48% of positive tests in hospital are hospital-acquired in the latest week.
Monmouth GP Dr Rowena Christmas said Covid was "still very much with us" with six residents at one care home testing positive despite its "best interests to protect everyone".
"We've got staff members off sick again, testing positive.
"Right now if we could get our masks back on and, I hate to say this, but avoid hugs and kisses with anyone who isn't our immediate contacts as much as you possibly can."
Little of this will come as a surprise to anyone with a friend, relative or colleague who has recently shared tales of feeling pretty rough, having come down with Covid.
But those friends, family and colleagues invariably have jobs in the NHS, schools or local services.
You take them out of the mix and we start to feel the pinch again, with hospitals under intense pressure, and schools without enough staff to get by safely.
The positives: fewer people are needing to be hospitalised with Covid - in the main, people can cope with the symptoms.
But right now, hospitals are already full. We've seen record highs for bed occupancy rates in recent weeks.
Why? Well we know there's a backlog of patients waiting for care - but the longer they wait, the worse their conditions become, so their needs become more urgent, meaning many end up in hospital anyway.
And getting them out once they're medically well enough is harder if they need additional support on the outside - we know there's a shortage of social care staff - but they too, unsurprisingly, are also being hit by Covid.