Can Tommy Cooper's statue cut rise in unwanted rabbits?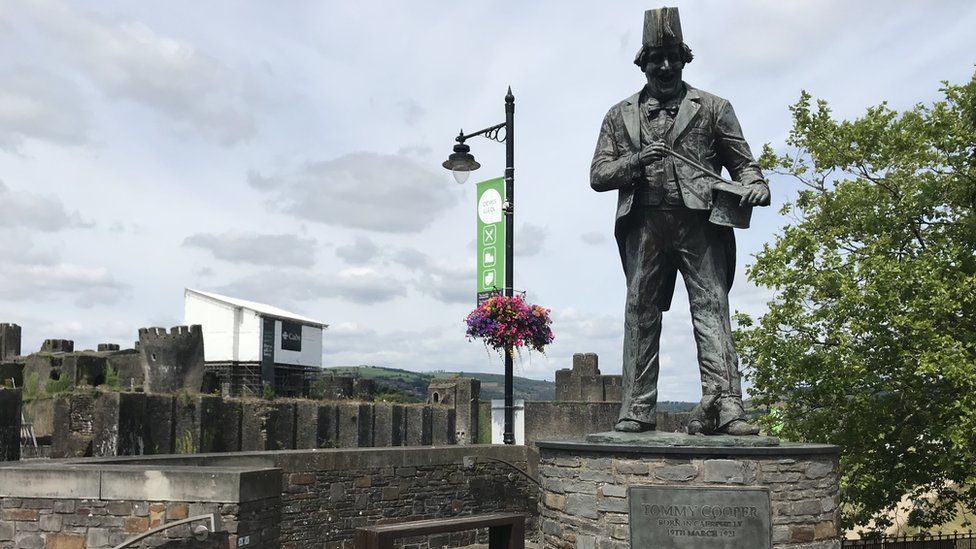 A statue of Tommy Cooper is being used to raise awareness of the plight of unwanted pet rabbits - "just like that".
A competition has been set up to name the rabbit depicted with the statue of Cooper - known for his catchphrase and magic gags - in Caerphilly.
The RSPCA also wants to use it to highlight an influx of rabbits needing rehoming since the pandemic.
Cooper used models of rabbits in his tongue-in-cheek visual gags.
Tudor Jones, chairman of the Tommy Cooper Society and a former chairman of the RSPCA's local branch, said the idea for the competition came about as a way to highlight their charity work and the plight of pets.
"I was recently giving a talk to an audience in Caerphilly about Cooper's life and one of the ladies in attendance said her grandson loved nothing more than going to see the statue - not to see Tommy, but the rabbit instead," he said.
"This struck me as a great opportunity to name the rabbit."
Latest figures have revealed a 28% increase in rabbits needing rehoming in 2021, up to 859 compared with 672 from the year before.
Dr Jane Tyson from the charity said: "We look forward to hearing some of the amazing suggestions for a name which may even inspire us when naming the many rescue rabbits in our own centres looking for a new chance of forever home happiness."