Stricter rules for tattoos and piercings in Wales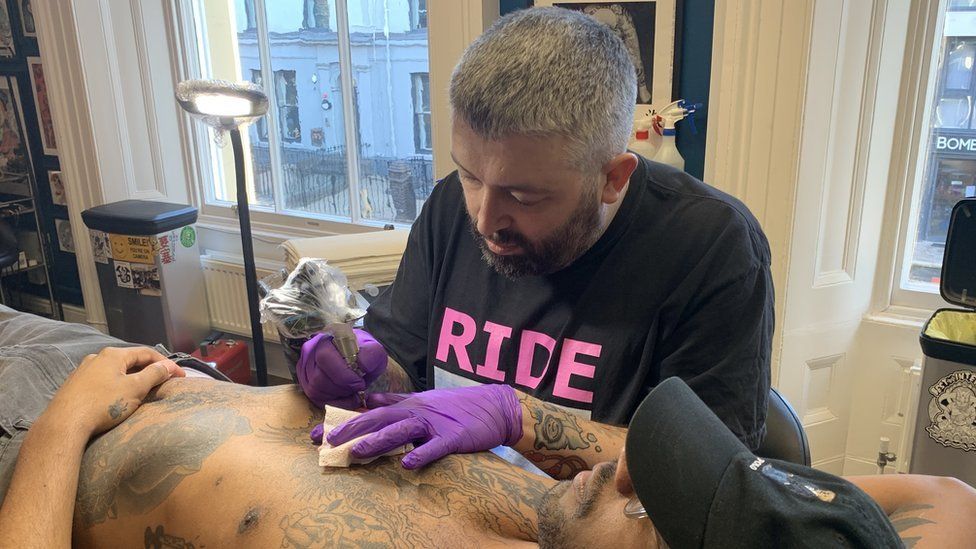 Wales is set to become the first UK nation to introduce mandatory licensing for tattoo artists, body piercers and cosmetic clinics.
The tougher controls aim to reduce infections and poor working practices by creating a public register of licence holders.
About 3,500 practitioners will need to be licensed and 1,868 business premises will require approval.
A 12-week consultation has been launched by the Welsh government.
The new rules are the final phase of changes introduced under the Public Health (Wales) Act 2017 to improve standards of infection prevention and control in the industry.
The legislative work was due to be brought in during 2020 but the scheme was delayed by Brexit and the Covid pandemic.
Ashley Davies, who has been running Stronghold Tattoo in Cardiff for eight years and has been working with the Welsh government on the new qualification, said: "The increase in quality of tattoos in the last decade has been exponential so the hygiene needs to be raised.
"This is all positive for the industry and helps shake the image of it being dark and shady. It's reassuring for those getting tattooed as well."
The pass rate for those practitioners who have already undertaken the level 2 award in infection prevention and control voluntarily is 95%.
But there are still concerns about many without licences, including self-taught tattooists, known in the industry as "scratchers".
Health experts have warned of the dangers of contracting blood-borne viruses - such as hepatitis B, hepatitis C or HIV - from unlicensed tattoo artists, and warn how blood poisoning caused by dirty needles can kill.
Ffion Hughes, a paramedic tattooist who helps mastectomy patients with scarring and areola loss, told BBC Radio Wales Breakfast that her clinic in Caernarfon, Gwynedd, often sees distressed patients after "having bad work, infections, viruses… a bad image on their body that they can't get rid of".
"Anybody can pick up a tattoo gun and become a tattooist which is absolutely shocking," she said, "because that's actually on your body for the rest of your life."
She said the new regulations bring medical tattoo practitioners and tattoo artist to the same level.
"It's going to be a huge shock for the [tattoo parlour] industry," she said, but she believes the general public will be "more accepting of it and respect it a bit better now that there's better work out there".
Shaun Newman, manager at Stronghold Tattoo, said tattoos had become a lot more popular because of heavily tattooed celebrities such as David Beckham and exposure through social media, but that has brought extra issues.
"There can be a real problem of people going to unlicensed tattooists at their homes because they're cheap," he said.
"People think it doesn't matter if it's cheap, but it really matters that these people have no idea how to use the machinery properly or take care of the tattoo during and after the process, which is critical."
Wales' chief medical officer Frank Atherton said extra regulation was needed following an outbreak of skin infection pseudomonas at a Newport tattoo and body piercing establishment in 2014.
"This specific incident in 2014 highlighted the problem of unlicensed body art practitioners and body piercers and led to very difficult consequences for a number of people in south Wales," he said.
"Some very young people were affected, even as young as 13 and they had significant hospital treatment and reconstructive surgery. It cost the NHS nearly £250 000.
"Good standards of hygiene and infection control by all special procedures practitioners and businesses is essential as these procedures are capable of causing harm if not carried out properly."