Cardiff: Man arrested after death of drag queen in city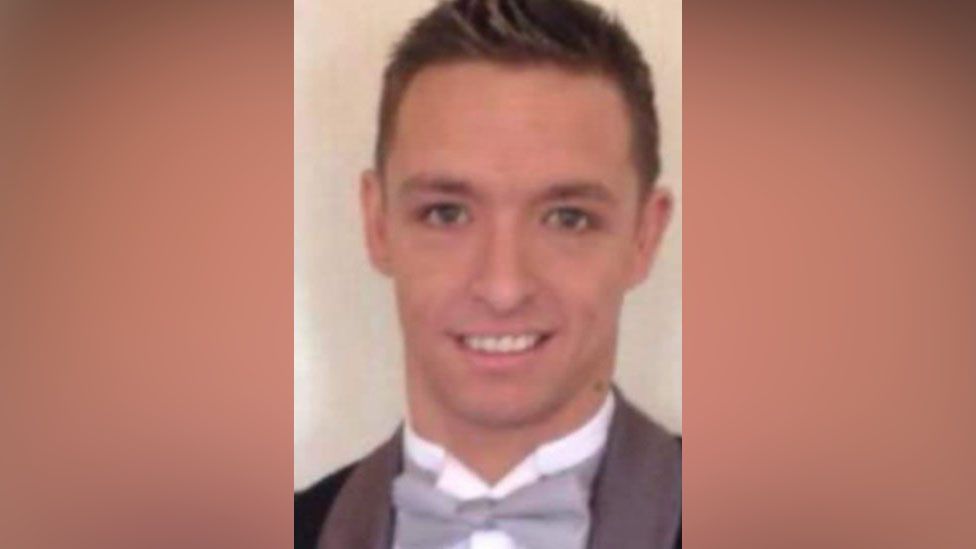 A 50-year old man has been arrested on suspicion of manslaughter after the death of a well-known drag performer.
Darren Moore was found dead in Windsor Place in Cardiff city centre at about 19:35 GMT on Sunday.
The 39-year-old from Newport performed as CC Quinn and previously as Crystal Coutoure.
Tributes were paid to him at a vigil held in Cardiff city centre on Wednesday evening.
The arrested man remains in police custody, where he is being questioned, and Mr Moore's family have been updated, South Wales Police said.
A post-mortem examination has been conducted and further tests are being carried out to establish the cause of death, the force added.
Police are appealing for anyone who saw Mr Moore in Cardiff city centre during the early hours of Sunday to come forward.
Det Ch Insp Paul Raikes said: "Initial investigations have so far not revealed or confirmed any obvious cause of death, however extensive enquiries are continuing to establish the cause and circumstances of Mr Moore's death.
"I would like to thank the community for the excellent support they have provided to this investigation so far, which has helped enormously.
"I would also again like to respectfully ask people to refrain from speculating on social media about what has occurred and please let the police investigation take its course."
Mr Moore was last seen at about 05:00 GMT dressed in drag and was wearing full face make-up, a luminous green dress, a blonde wig, diamante heels and a matching clutch bag.
Meanwhile, dozens of mourners gathered at a vigil in Windsor Place to pay tribute.
Richard Smith, who had known Mr Moore for more than 20 years, said he was "absolutely gutted, devastated".
"I just can't believe it's happened, Darren's husband rang us at around 02:20 on Sunday morning to tell us he'd been found dead," added Mr Smith, from Abergavenny, Monmouthshire.
"I've known him for 20 years, he was the life and soul of everyone's party, just an amazing guy.
"It's rocked the community, that's all I can say, no-one's safe anywhere."
Rob Llewelyn, also from Abergavenny, said he was in "total shock" after hearing about the death.
Mr Llewelyn said he has been watching Mr Moore sing in Cardiff for about 20 years.
"Everyone in the gay community knew him, he was just liked by everyone," he said.
"Even though he was only around 18, 19 at the time, he would be up on the bar dancing and singing and it was the highlight of the week to come see him singing."
Myky Webb, from Cardiff, who also performs drag as Sister Celia, said it was "worrying" for Cardiff at as city.
"I actually saw [Mr Moore] on Saturday night, on St Mary Street, which feels a bit strange now," he said.
"It's a very strange feeling, obviously it's very sad that this has happened, very sad for the family.
"It's also very worrying for Cardiff as a city and for queer people in Cardiff on the scene, to think that this kind of thing still happens in 2023."
Mr Moore was jailed in March 1999 after being convicted of four counts of rape of a boy under 16.
In 2011, he was also sentenced to a three-year community order and given 300 hours of unpaid work for breaching of a sex offender's order.