Bake Off: The actor portraying Paul Hollywood in GBBO musical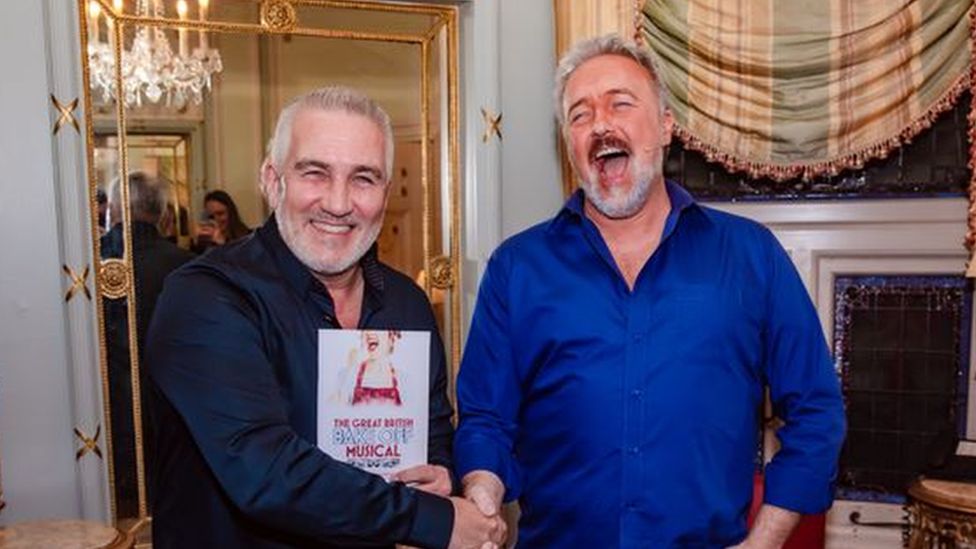 How on earth do you whisk the Great British Bake Off into a musical?
"That was the million dollar question," said West End star John Owen-Jones, who is tackling his hardest role yet based on Paul Hollywood.
The stage production, which has been in the works for six years, is based on the TV series and shows the trials and tribulations of fictional contestants.
The final product, John claims, brought a tear to the real Paul Hollywood's eye.
The Great British Bake Off - often just called Bake Off or GBBO - has been on our screens for 13 years and sees a group of amateur bakers compete against each other in a series of rounds, attempting to impress two judges with their baking skills.
The stage show adaptation opens in the West End on Monday, with Welsh musical theatre star John Owen-Jones playing judge Phil Hollinghurst - who happens to look exactly like the real Bake Off judge, Paul Hollywood.
Owen-Jones has played some of the most recognisable faces in theatre, including the phantom in Phantom of the Opera.
He said playing a character based on a real person, however, has been one of his biggest challenges yet.
"When you're portraying somebody like that you have a responsibility," he said.
"We gently tease and tweak the character to make it funnier and more theatrical but when I was asked to do it I thought this isn't me at all - that was until I coloured my hair grey and I thought I looked a bit like him.
"When you are playing a real life person who is still alive you have to be very aware of their feelings and be careful, but Paul is a very lovely man."
Hollywood is known for the 'Hollywood Handshake' that he gives to bakers who win his approval - and John was very much hoping for a handshake too.
"Paul came to see the show and loved it," said John.
"He gave me two handshakes after and is going to bring his mum back. He'd never even seen a musical before this."
John didn't tell the cast that Hollywood was in the audience, but he added: "I swear I saw him wipe away a tear at the end".
"I've watched Bake Off from the very beginning so I felt like I knew Paul anyway", he continued.
"I am good friends with Matt Lucas who was previously presenting the show so he gave me some good inside information."
John, who was previously a butcher alongside his father and brother in Burry Port, Carmarthenshire, loves to cook and dabbles in baking off the stage too.
"I have grown up in the food industry and I played Jean Valjean in Les Miserables, who famously stole a loaf of bread.
"So it is nice to actually be in a role where we are creating bread."
John said the musical's writers "have managed to achieve the impossible and create something special from a TV show".
He said the core human stories are what makes it work so well on TV and the stage.
"It is one of those shows where you want people on it to do really well and to succeed and have a good time", he added.
Hadyn Gwynne plays Pam Lee, a character based on the judge Dame Prue Leith. She researched the role by watching past episodes of GBBO and reading Leith's autobiography.
"I decided not to be completely imitative with my voice because my singing voice is so different, but I did listen to her because she grew up in South Africa in Cape Town and I can really hear the South African rhythms in her voice," she said.
"So I've fed that into it and other aspects of it without trying to do some complete impersonation."
Jake Brunger and Pippa Cleary had the job of putting the dreams and dramas of the tent into song, which Pippa said they jumped at.
"It was quite an easy 'oh my god yes'", she said.
"We got the call in lockdown one where it was obviously quite a depressing time in theatre, so we were very feeling sorry for ourselves.
"We loved Bake Off already, have been fans of the show for years and years so we were very excited."
Lockdown research involved a lot of Bake Off programme watching and cake sampling.
Pippa said while the contestants are not based on real life, they have "sprinkled" in references and stories that might be familiar.
"We wanted this to have real heart as it's not a parody - it's a proper musical", she said.
Jake said the biggest part of the process was figuring out how to do the judges.
"We tried to so many different versions over many different iterations, whilst sticking as close as you can to what the people at home know and love", said Jake.
"But we've called them Pam Lee and Phil Hollinghurst. So the initials and the syllables are the same - but other than that, we can't get sued. I hope."