Gleision: Families want answers 12 years after disaster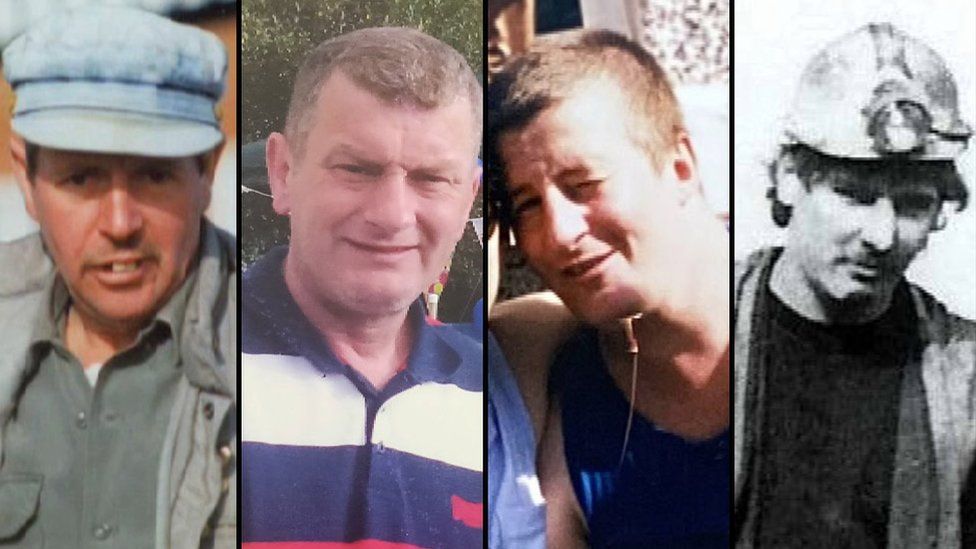 The families of four miners who died in a colliery disaster nearly 12 years ago have said an inquest will give them the answers they need.
Charles Breslin, 62, David Powell, 50, Phillip Hill, 44, and Garry Jenkins, 39, died when water flooded the Gleision drift mine, near Cilybebyll, Neath Port Talbot, in September 2011.
On Friday, a pre-inquest hearing set out what evidence would be heard.
"It is very important to us to get a bit of closure after a long 12 years," said John Davies, brother of Mr Powell's widow Lynette.
"We haven't had death certificates.
"We'll never forget the disaster, but once we have the answers a line can be drawn under it."
He added the inquest would end "speculation about what anyone has done, all the evidence will come out and that'll be the end of it".
"Once that line is drawn, lessons can be learnt from it," he said.
Mr Breslin's widow Mavis said: "Let's have some answers at last.
"I'm looking forward to just getting to the end of all of this."
The disaster happened after routine blasting, when thousands of gallons of water flooded into a tunnel where seven miners were working.
Three of the miners escaped.
The families' call for the inquest came after a BBC Wales Investigates programme uncovered allegations authorities had failed to get to the bottom of the men's deaths.
Senior coroner Colin Phillips said while announcing the inquest in December there was a "real prospect" the deaths could have been avoided.
He told the hearing evidence from interested parties still needed to be submitted, but the inquest would take place "as soon as possible".
It will hear from Christian Howells, representing the families, the Health and Safety Executive, the Coal Authority, owners MNS Mining Ltd, and South Wales Police.
Mr Phillips said he would request Neath Port Talbot council, which inspected the mine shortly before the incident, also be included.
The coroner requested several documents, including a transcript of the criminal trial in 2014 and documents from the investigation by South Wales
Expert evidence will be given by a mining engineer and a chartered geologist.
Mr Howells recommended an expert surveyor also give evidence.
A decision on whether to include a jury in the inquest will be made at a later date.
"There's a great feeling of relief today and finally a chance that there could be justice," said Sioned Williams, a Plaid Cymru MS for South Wales West.
"The door is finally open and hopefully questions will be answered," she said at the planting of a cherry blossom tree in Rhos Park, Pontardawe, to commemorate the four men.
She said the tree, donated by The National Trust, was a "fitting tribute".