AI: Researchers train artificial intelligence to help detect breast cancer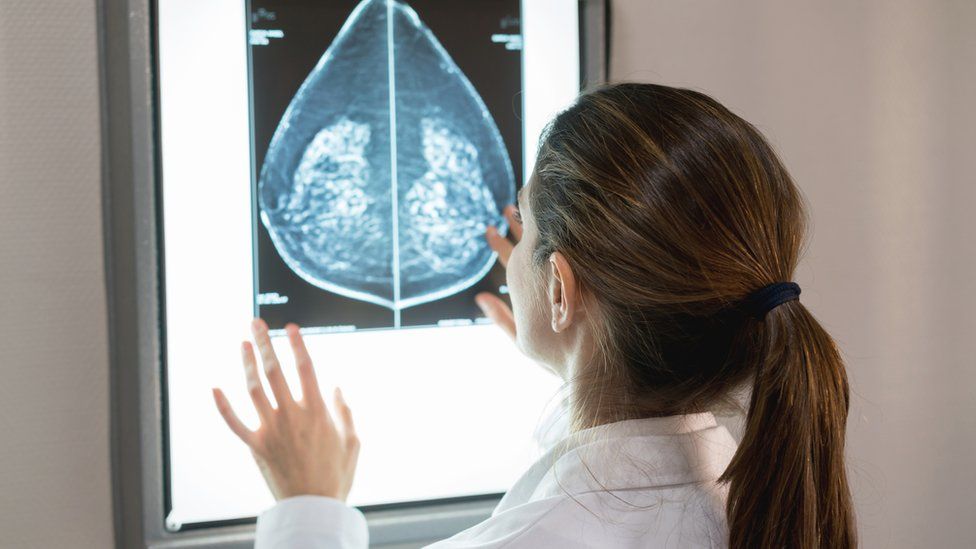 Researchers have developed an artificial intelligence (AI) system that may help doctors detect cancer.
The researchers from Cardiff University say it could help improve the accuracy of medical diagnostics and could lead to earlier breast cancer detection.
The system is aimed at supporting radiologists' decision making, Hantao Liu from Cardiff University said.
Cancer charity Tenovus said AI's potential use in diagnosing cancers early was "phenomenal".
Mr Liu, a reader in computer science and informatics at Cardiff University, said his team had worked with radiologists in NHS hospitals in Wales and England and recorded the eye movement of a radiologist reading medical images.
The team fed this data to the AI system to learn the gaze of a radiologist.
After training, the system will be able to identify on a scan the regions where radiologists are most likely to look when preparing a diagnosis, Mr Liu said.
"With all of the challenges facing the NHS, it is important that we look to data science and AI for possible solutions," Mr Liu said.
Judi Rhys, chief executive of cancer charity Tenovus acknowledged AI had "something of a bad name", but welcomed the research.
"Its [AI's] potential use in diagnosing cancers early is phenomenal," she said.
"It's not about replacing the radiologists but it is about making them able to be much more responsive," she added.
By pointing out particularly worrying scans, people who are more likely to have cancer can be perhaps accelerated through the system, she said.
She also stressed that studies had shown how remarkably accurate the technology is.
"The other thing about artificial intelligence is it doesn't actually need a break. It can get through a phenomenal number of scans and support the radiologists therefore to tackle the 'sticky' ones," she said.
It was still important to look at the workforce, she said, especially given the 30% shortage of radiology consultants across the UK.
"But tools like this can really help them and support them in their work and that's got to be a good thing for patients," Ms Rhys added.