Unfinished Dylan Thomas poem 'saved for Wales'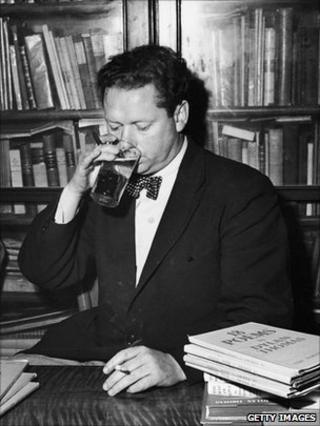 Dylan Thomas's last unfinished poem has been given a permanent home at the National Library of Wales after being bought from a collector.
Elegy was bought as part of a collection of Thomas's work.
It was written during his time in America, just a few years before his death in 1953.
The National Librarian Andrew Green said: "This collection of work gives us an insight into how Dylan Thomas worked as a poet."
The manuscript for Elegy is said to be a "very early draft".
The collection also includes an extensive word-list for Poem on His Birthday, first published in World Review in 1951, and some of his very early poems, such as A Refusal to Mourn the Death by Fire of a Child in London.
This collections adds to the archive of work by Dylan Thomas held by the library in Aberystwyth, which includes a unique map drawn by Thomas of his fictional village, Llareggub, for the world-famous radio play, Under Milk Wood.
The collection was bought from Jeff Towns, who owns Dylan's bookshop in Swansea.
Nia Daniel, head of the library's manuscripts and visual images unit, said the collection could help change perceptions of Dylan Thomas.
She said: "Maybe people have the idea of Dylan Thomas as drunk and erratic, but if you look at the manuscripts for his poems it shows how careful he was in putting his poems together."
She added: "The collection reveals the effort Dylan Thomas put into his poetry; lists and lists of rhyming words for poems and alliterations."
It was "the kind of thing you see less and less as people write on a computer and not on paper", she said.
Mr Green said the National Library of Wales took its role as the nation's principal archive very seriously.
He said: "In a long line of poets stretching over 1,500 years in Welsh and then English, Dylan Thomas is one of the best known of Welsh poets.
"This is a very welcome addition to the library's archive and it also means that the work of one of Wales' best known poet stays in his native land."
Ms Daniel added: "It's very important for Wales. When Thomas died a lot of his manuscripts were bought up by large American libraries.
"But over the last 20 years we have amassed a collection we would say is the equal of those collections."
An additional collection of manuscripts by, and relating to, the writer Jan Morris, have also been acquired by the national library.
These include typescripts of her novels, together with the publisher's corrected typescript of her memoir Conundrum, correspondence, notebooks and printed material.
They will be added to the Jan Morris Papers.