Six shearing world titles won at Royal Welsh Show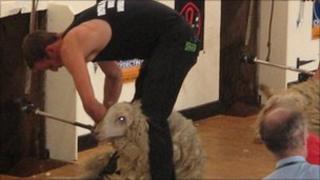 Six world titles have been settled at a shearing championships staged at the Royal Welsh Show in Powys.
Bronwen Tango, from Usk, Monmouthshire, was the highest placed Welsh competitor after she won the individual wool handling title.
Cam Ferguson of New Zealand took the prestigious machine shearing championship.
Compatriot David Fagan was second and Welshman Gareth Daniel, from Powys, was third. Conwy's Gareth Evans was fourth.
Zineisbld Elliot Ntsombo, of The Kingdom of Lesotho, won the individual blade shearing competition, while Cam Ferguson picked up third place.
In the team events, South Africa were crowned champions in the blade shearing, while Lesotho was second and New Zealand third.
The machine championship went to New Zealand, with Wales second and Scotland in third place.
Wales finished second to New Zealand again in the team woolhandling event, while third place went to Scotland.
The championships were watched by hundreds of people at the showground in Llanelwedd, Powys.
Twenty eight countries, including a team from Japan, took part in the two-day Golden Shears World Shearing and Woolhandling Championships.
Competitors sheared about 5,000 animals in pursuit of the top prize.
Before the event, show officials said it was a major attraction and visitors enjoyed watching as shearers clipped a sheep's fleece in a trial against the clock.
To accommodate visitors and the fans of the shearing teams, an additional grandstand was positioned opposite the showground's Meirion Shearing Centre and there was also two large viewing screens.
The Royal Welsh Agricultural Society, which staged the championships, said they had cost between £150,000 and £160,000, but it had received more than £200,000 in sponsorship.