Police plan traffic warden overhaul in Ceredigion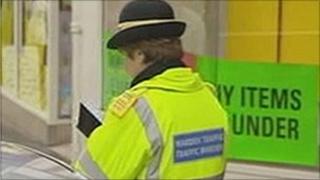 Traffic wardens in Ceredigion could soon be working for the county council instead of the police under new plans.
Dyfed-Powys Police Authority would like the council to take control of parking enforcement in the county to bring it in line with other force areas.
Ceredigion council would then have to employ traffic wardens instead of the police.
The council said the matter had been under consideration and a report could go before cabinet as soon as September.
The police authority said it had appealed to the council's highways committee and it was expected to make a decision at its next meeting.
A police authority spokeswoman said: "In order to bring Ceredigion in line with the other policing divisions - a request has been made to Ceredigion highways cabinet for the authority to take over responsibility of parking regulations and enforcement.
"Traffic wardens would then be employed by Ceredigion council - as is the case in the other divisions already. This process began some time ago - and a decision is expected to be made in the next meeting."
Earlier this month, it was revealed that parking in Cardiff is to undergo a radical overhaul as the local council takes on responsibility for fines.
Traffic wardens have been replaced by civil parking enforcement teams (CEOs) working longer hours than usual, from 7am-10pm seven days a week.
The cost of parking fines will also go up - from £30 to £70 or £50 - in a bid to clampdown on illegal parking in residential areas.