Public meeting hears concerns over Vyrnwy estate sale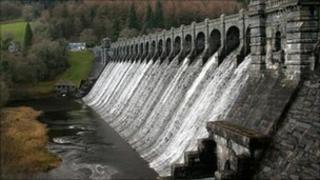 Concerns have been raised about what the sale of an £11m rural estate in Powys could mean for tenants.
Around 70 people attended a public meeting in Llanwddyn to discuss Severn Trent Water's sale of 23,000 acre (93 sq km) land around Lake Vyrnwy.
There were calls for water utility to give 10% of any sale to the community.
Severn Trent has said a responsible transfer should bring benefits to those living and working on the estate.
The land around Lake Vyrnwy is being split up into four lots, which are being sold on a 125-year lease.
Estate agents say they expect a healthy interest.
The land being sold includes farms, nature reserves and even people's homes.
But some people living and working in the area say they are worried.
The house of postmistress Audrey Jones is one of those up for sale with the estate.
She said there was is only one topic of conversation in the village at the moment.
She said: "Nobody knows what's happening, do they?
"I had meeting with them. I was just told that it wouldn't make any odds to me because I rent my house and I'm not on a short lease.
"But you don't know who buys it, do you?"
Clerk to the community council, Gwyndaf Richards, said: "There's an element of anxiety, obviously.
"Most of the people in this community area are affected by how Severn Trent is managed because they are the only owners in this area.
"There are quite a number of people who rent farms here and rent residential properties and they wondering about the level of rent the new owners require."
However, he said the sale also presented "possible opportunities here" as Severn Trent would still have in interest due to the land sale being on a lease.
An online campaign has been launched with the aim of a million people buying £10 shares of the estate to ensure public access.
The largest parcel of land for sale includes 12,000 acres (4,850 hectares) farmed jointly with the Royal Society for the Protection of Birds (RSPB).
Other sections include 14 farms, a 5,000-acre (2,000 hectares) area of woodland managed by Forestry Commission Wales, and 31 residential and commercial properties.
Water rights for the lake will be subject to separate negotiation.
The water is used to serve United Utilities customers on Merseyside.