Red diesel spill pollutes two rivers in Ceredigion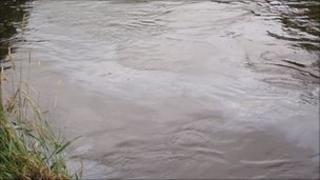 An investigation is under way after about 300 litres of red diesel leaked into two rivers from a storage tank.
Environment Agency Wales said the spill had affected the rivers Clettwr and Teifi, near Llandysul, in Ceredigion.
Its officers have identified the source and stopped the leak, and they are using equipment to absorb "as much diesel as possible".
The agency has also hired specialist contractors to clean up the affected areas.
An Environment Agency Wales spokesman said: "Our main priority was to identify and stop the pollution at source to stop any more of the pollutant getting into local rivers.
"We have now done this so the next step is to clear up as much as possible.
"The biggest problem with this kind of pollutant is that it looks and smells unpleasant for people. It has a limited effect on local wildlife but we are monitoring the area very closely."
The agency said Ceredigion council had been notified in case of any public health concerns.