Brecon Beacons National Park chair stepping down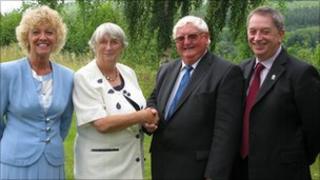 A national park's longest serving chair is to step down at the end of August after 13 years' service.
Mary Taylor will be succeeded at Brecon Beacons National Park by councillor Eric Saxon from Monmouthshire council.
Park chief executive John Cook said Mrs Taylor would be "sadly missed", adding that she had made a "significant contribution".
Julie James, a Welsh Assembly Government appointed park member, has been elected Mr Saxon's deputy.
The authority said Mr Saxon brought with him a wealth of experience in the areas of business and the environment.
Following his appointment, Mr Saxon said: "Brecon Beacons National Park Authority has made significant progress under the valued leadership of Mrs Mary Taylor, but we cannot afford to be complacent - we still have much work to do.
'Respect'
"I do not want this authority to be either a member led or an officer led organisation. Good governance and effective leadership depends on mutual trust and respect, co-operation and partnership."
Park chief executive Mr Cook welcomed Mr Saxon and Mrs James, but he said Mrs Taylor would be "sadly missed", and he wished her well for the future.
He added: "I would like to say a sincere and heartfelt thank you to Mrs Mary Taylor, our outgoing chairman, who has made such a significant contribution to Brecon Beacons National Park Authority during her leadership."
Mrs Taylor has been in charge during a turbulent period for the national park.
In January, a High Court judge quashed planning permission for a caravan park at Gilestone Farm, near Brecon.
The judgement followed an inquiry in 2007 which found "serious failings" in the way the national park handled the application.
The following year the assembly government appointed a so-called "critical friend" to advise the park on planning issues.