Study to capture memories of historic TV moments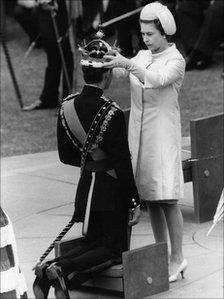 The influence television has had on family life in Wales will form part of a new study by Aberystwyth University.
Researchers working on Media and Memory in Wales 1950 - 2000 will record interviews with people about their memories of watching historic moments.
They will be asked about significant events such as the Queen's coronation and the Aberfan disaster.
People in Wrexham, Caernarfon, Rhondda and Carmarthen are being asked to take part.
Organisers say their answers will help researchers reflect their sense of belonging and identity.
The interviews will form a bilingual online digital archive to which members of the public will be able to add their own memories in the form of images, audio or video.
The study has been launched at the National Eisteddfod in Ebbw Vale, and is being led by Dr Iwan Morus and Dr Jamie Medhurst.
They will ask people for their memories about the Queen's coronation in 1953, the flooding of the Tryweryn valley in 1965 to provide water for Liverpool, the 1966 Aberfan disaster, and Prince Charles's investiture as Prince of Wales in 1969.
They will also be asked about the golden age of Welsh rugby in the 1970s, the first and second referendum on Welsh devolution in 1979 and 1997, the launch of Welsh language television channel S4C in 1982, and the miners' strike, from 1984-5.
Dr Morus said: "It is a truism that family life during the second half of the twentieth century revolved increasingly around the television set which formed a prominent feature - often the primary focus - of the living room.
"Our aim is to collect and archive people's memories relating to the age of television in Wales, from seeing television for the first time to watching these major TV events."
"By focussing on four distinct and distinctive geographical and linguistic communities our aim is to bring together a spectrum of memories that represent a national collective memory of television in Wales."
Interviews for the project will be held during autumn 2010.
People living in the Wrexham, Caernarfon, the Rhondda and Carmarthen areas who would like to take part in the interviews can e-mail info@culturenetcymru.com
Related Internet Links
The BBC is not responsible for the content of external sites.