Colombia honours Hay Festival director Peter Florence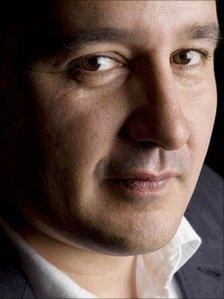 The director of the Hay Festival has been awarded a special honour by the Colombian government for promoting the country's culture and literature.
Peter Florence received the Colombia Es Pasion (Colombian by Heart) at a ceremony at the country's Embassy in London on Wednesday.
It recognises people who have portrayed the country in a positive light.
Mr Florence took the Hay Festival to the Colombian city of Cartagena in 2006.
The second Hay Festival Cartagena de Indias was staged in January and attracted writers from around the world, including Ian McEwan, Michael Ondaatje, Mario Vargas Llosa, Jung Chang, Wole Soyinka. and Simon Schama.
Colombia Es Pasion was first awarded in 2005, said a spokeswoman for the Colombian Embassy in London.
Other recipients have included former US President Bill Clinton and Spanish and Latin American singing star, Miguel Bosé.
Mr Florence was honoured for his contribution to the promotion of Colombian culture and literature.
He described it as an "astonishing honour".
He added: "I first travelled to Cartagena through the pages of Cabriel Garcia Marquez novels, and have been happy every time I've worked there.
"It's a dynamic, hopeful, deeply civilised and passionate country which confounds every lazy cliché and resonates with stories and music. I am thrilled to be 'Colombian by Heart'."
A spokeswoman for the Colombian Embassy said the award was presented by the government to Colombians, or people from overseas, who had contributed to the positive image of Colombia abroad.
Mr Florence received the Colombia Es Pasion from the Colombian Ambassador, Mauricio Rodriguez Múnera.
The Hay Festival now features in other countries around the world, and there are a number of associated events in places such as Mexico, Kenya, Maldives, India and Lebanon.
Related Internet Links
The BBC is not responsible for the content of external sites.