Hart calls 'urgent' meeting over hospital closures leak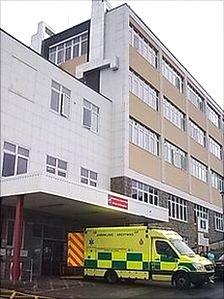 Health Minister Edwina Hart has called an urgent meeting with a health board following claims two district general hospitals (DGH) would be downgraded.
A leaked draft report by Hywel Dda Health Board said DGHs in Aberystwyth and Haverfordwest would become rural general hospitals (RGH).
But the board said the report, dated 9 July, was now out of date and the hospitals would continue to be DGHs.
Mrs Hart will meet the health board's chief executive and chair.
She will be accompanied by NHS Wales chief executive Paul Williams.
The "outdated" proposals were revealed in a leaked report of the Hywel Dda Health Board, dated last month.
The board is responsible for Bronglais in Aberystwyth, Withybush in Haverfodwest, West Wales General Hospital in Carmarthen and Prince Philip Hospital in Llanelli, which are all DGHs.
In its report, it said Bronglais and Withybush would become RGHs offering fewer services than a DGH, and losing departments such as intensive care units.
But the Hywel Dda board said that report was now out of date.
In the up-to-date version, it proposes to change the way health care is delivered in the community, which means more "high quality services and care delivered closer to home".
A Welsh Assembly Government spokesman said: "The Hywel Dda Health Board has confirmed that it is committed to ensuring that its four main hospitals remain as major health care providers and that those designated as district general will continue to be so.
"Any suggestion to the contrary is pure scaremongering and will cause patients unnecessary worry.
"With regard to the leaked information, the chief executive of the health board has said that this was an early draft of a paper, which had not been approved by the board. Trevor Purt (chief executive) has now withdrawn the document and apologised for any concern it may have caused."
The spokesperson said the health minister and the chief executive of NHS Wales would have "an urgent meeting with both the chair and chief executive of Hywel Dda Health Board to impress upon them the importance of safe and efficient services being provided as close to people as possible".
Hywel Dda chief executive Mr Purt said his board was "committed to ensuring our four main hospitals remain as major health care providers and those designated as district general will continue to be so".
But Ceredigion MP Mark Williams said the leaked document made "very concerning reading".
He added: "Whilst the health board's most recent document presents a vision of community delivery in the Hywel Dda area, it lacks the detail of the leaked one and much of that detail remains very worrying for us."
Ceredigion AM Elin Jones said: "As the Assembly Member for Ceredigion, I will never give up the fight to ensure that Bronglais remains a district general hospital, and I have given that message loud and clear to Hywel Dda's chief executive and the Health Minister."
Related Internet Links
The BBC is not responsible for the content of external sites.