Ex-print journalists launch Welshpool news website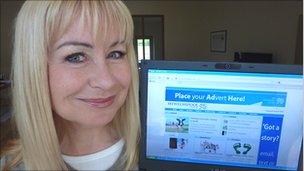 Two former newspaper journalists from Powys have switched to the web to launch a local news website.
David Williams and Graham Breeze said they believed the internet was the future for local news, and are focusing their venture on Welshpool.
Their site will also feature sport, business news, features and community announcements from the town and surrounding area.
A professor of media said Wales needed more flourishing sources of news.
Mr Williams, 38, a former sports editor with the County Times newspaper, and Mr Breeze, 58, a former publishing director with NWN Media, the owners of the paper, hope to extend their website to other towns in the county.
Professor of media at Aberystwyth University, Tom O'Malley, said Wales needed more flourishing sources of news.
"If the website adheres to the National Union of Journalists' (NUJ) code of conduct, and to the basic values of journalism such as balance, fairness, impartiality and accuracy, supports itself financially, and is what people want, then it's very admirable," he said.
Prof O'Malley added: "We need a flourishing plurality of sources of news in Wales and this example fits nicely in with current concerns in local and national journalism in Wales.
"It's an attempt, so it seems, to address the dearth of news services in Wales."
Prof O'Malley said the NUJ had revealed examples recently of people in the UK setting up independent news websites, and some had proved successful.
The Welsh Assembly Government has also spoken of the need for plurality in both the print and broadcasting media in Wales.
Mr Breeze, who started his career with the County Times and is a former editor of the paper, said: "We have been blown away by the early response from the local community.
"We have been particularly encouraged by the response from the business sector who have identified that a website like this can provide excellent value-for-money as we are talking directly to their next customers."
Mr Breeze added he and Mr Williams had bought website domains for other towns that could see them eventually covering mid Wales from the border to the coast.
"People want local news and they want it now," he said.
"With very low set-up costs the potential for strong returns is good and we believe that this is the way that local news will be communicated in the future," he added.
The site was launched by ITV weather presenter Sian Lloyd.
Related Internet Links
The BBC is not responsible for the content of external sites.