Distress call to expel Aberystwyth University seagulls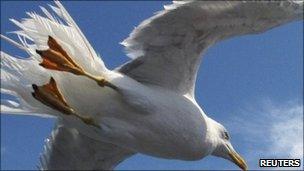 Speakers mimicking the sound of distressed seagulls have been installed at a university to prevent hungry gulls from bothering diners near a cafe.
The new system has been placed on four buildings in Aberystwyth following complaints from people that nuisance gulls had "aggressively" taken food.
But it will not be turned on until September because it is feared parents might desert fledgling birds.
It is also being used to stop gulls from nesting on roofs on campus.
The so-called bio-acoustic deterrent system broadcasts a gull's distress call, which is designed to scare the birds.
A university spokesman said: "The aim is to discourage seagulls from nesting on buildings in this area so that they will then be discouraged from foraging for food to feed their young in the area.
"The work has been undertaken following a number of reports received by the university of seagulls aggressively taking food from people in the vicinity of the arts centre piazza and also in order to gain safe access to roofs for essential maintenance of equipment.
"It is planned to switch the units on in September 2010 to provide a permanent deterrent to gulls nesting on the roofs of buildings."
Jim Hughes works at the univesity's arts centre piazza cafe and has witnessed numerous attacks on customers, and has been a victim.
He said the seagulls were cunning.
He added: "Attacks can happen a few times a day. The gulls prey on people, stalk and linger around. They can even stand at one end of a table while people are sitting eating at the other end.
"They started by working in pairs. One diverted a person's attention while the other stole the food, but they now attack on their own."
Mr Hughes said he had been a victim as well.
"I was carrying some food and a gull swooped down. I dropped some of the food, but managed to save the rest.
"Last week the same thing happened again, but I managed to avoid the seagull and save the food."
Related Internet Links
The BBC is not responsible for the content of external sites.