Aberystwyth hospital project expands with day surgery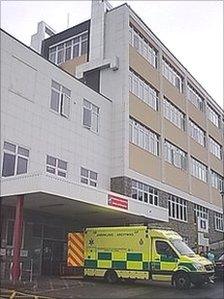 A major project to upgrade services at mid Wales' only district general hospital has been expanded, say health officials.
The scheme at Bronglais, Aberystwyth, which includes a three-storey A&E unit, was estimated at £31m in 2008.
Hywel Dda Health Board said a day surgery ward had been added, and along with planned improvements at Aberaeron hospital the costs were now £40m.
A new car park, part of the original plan, will be ready in December.
The work is designed to improve patient care, cut waiting times and reduce the risk of infection.
As part of the package, a three-storey building will be built housing a new accident and emergency department and the day surgery ward, which is designed to ease pressure on hospital wards.
Officials said £7.5m worth of work was already underway, and included £1m of improvements to pathology services.
Hywel Dda Health Board's medical director Dr Sue Fish said after organisational restructuring, the board had responsibility for providing general practice, community and hospital based services.
"This has given us new opportunities to deliver high quality health and social care that previously didn't exist," said Dr Fish.
She said the original scheme was devised nearly five years ago and had been reviewed to ensure it would provide the "best clinical care" in line with current health standards.
"We are working with clinicians and social care colleagues to ensure that it allows the safest possible care to be delivered for our patients and I am confident that the additions to the scheme will ensure this," she said.
"This will not delay the scheme - in fact, I hope we can find ways to deliver it more quickly."
The three-storey building was to have also housed three operating theatres, but they will now be "remodelled and refurbished" in their current location, closer to the intensive care unit and surgical wards to ensure "greater clinical safety".
Meanwhile, the health board intends to announce more details "very soon" about improvements at Aberaeron community hospital as part of its plans to offer services closer to people's homes.
Earlier this month, health officials said they were committed to the future of Bronglais Hospital after a leaked report said it would be downgraded.
A draft health board report said Bronglais in Aberystwyth and Withybush in Haverfordwest would become rural general hospitals.
But the board said the report, dated 9 July, was out of date and the hospitals would continue to be district generals.
Related Internet Links
The BBC is not responsible for the content of external sites.