RNLI renews warning over 'tombstoning' danger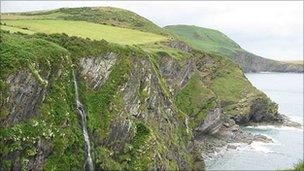 Rescuers have renewed a warning over the dangers of "tombstoning" after a 15-year-old was taken to hospital with a back injury.
The RNLI said the boy was suffering from "severe spinal pain" after the incident in Llangrannog, Ceredigion, on Monday afternoon.
He was rescued by a lifeguard and taken to Bronglais Hospital in Aberystwyth.
The trend for tombstoning - jumping off cliffs or other high points into water - has claimed lives around the UK.
Lifeguard Sam Willmott, who was training in the sea in Llangrannog bay on Monday afternoon, helped rescue the teenager.
The boy and his friends were jumping off a rock that was sticking out of the sea, said the RNLI.
He had just jumped into the water and was climbing back on to the rock to jump once again, when he complained he was in severe pain.
An RNLI spokesman said: "Sam managed to get the teenager down off the rock and onto the rescue paddle board, and also managed to radio lifeguard Sion Jones to ask him to bring a spinal board to second bay, where Sam was paddling to with the casualty.
"RNLI lifeguard Tim Lomas, at the beach lifeguard unit, was also asked to contact the ambulance service for assistance.
"After getting back to the main beach, the young casualty was taken, accompanied by his mother to Bronglais Hospital in Aberystwyth."
The RNLI warned people against tombstoning. It said it was dangerous for a number of reasons, and warned that people might be jumping into water that varied in depth because of the tide.
They added that submerged objects, like rocks, might not be visible, while strong currents could sweep people away.
Related Internet Links
The BBC is not responsible for the content of external sites.