Brecon parents warn of gap year drug ransom demand scam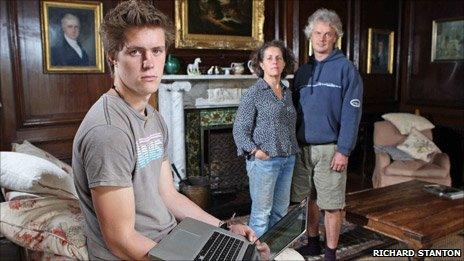 A gap year student's parents believe internet hackers tried to con them into thinking he was in a Colombian jail.
Gavin and Vina Hogg from Brecon, Powys, received an e-mail they believed came from their son Josh, 19, saying he needed money to pay off police.
They had made arrangements to transfer funds to south America when Josh phoned to say he was fine.
But they say someone hacked into his e-mail and Facebook accounts, and his father is warning others of the scam.
Mr Hogg said Josh had kept in regular contacted with them during his trip via e-mail.
Days before he was due to fly home they said they received a message from his account.
It said he was being held after police stopped a bus he was travelling on and had said they had found cocaine on him.
"This is getting pretty scary," it read.
"If I don't give them $350 (£225) they said I am going to have to spend a few months in jail and then if I am lucky I will be deported so please help me."
Mr Hogg said: "As a post that hits your panic buttons. The credibility of it seemed real.
"The fact it could be a scam never entered my head."
A subsequent message that appeared to be from Josh told them not to involve the British authorities otherwise he would be charged and not released.
"It all sounded very plausible," added Mr Hogg.
While the couple were looking into how they could get the money to Josh they received another e-mail from a man called "Chris" who claimed to have been in the same jail.
He said he had spoken to Josh and was willing to help and even spoke to the couple in a "slow Canadian drawl" via Skype - an internet based phone service.
Mr Hogg said "Chris" knew personal details about his son and his trip, so he had no reason to question his credibility.
While they were waiting for the wire transfer of money to go through to "Chris", Josh phoned the house to say he was safe and well.
He had been on a 30-hour bus ride as he had started to make his way home.
Mr Hogg said: "It was a very elaborate scam. It pushed on our most vulnerable buttons and played on our weakest points."
He is now urging other parents to be wary of being taken in.
"It could happen in most countries in the world," he added.
He suggested parents and their children agreed on a code word or question that could be used to verify an emergency if they go travelling.
"It's not that hard for hackers to get personal information that they can use," he added.
Related Internet Links
The BBC is not responsible for the content of external sites.