Planners back flood defence for listed home in Powys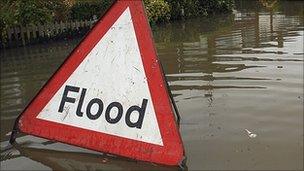 Councillors have backed controversial plans to re-instate a flood barrier to protect a 16th Century Grade II-listed farm on the River Severn.
The earth embankment is close to Trewern Hall, near Welshpool, but objectors claim it could divert water and put 30 homes and farmland at risk.
The application is the latest in a long-running saga going back to 2005.
A public inquiry found that a house of such national importance outweighed the risk to other homes from flooding.
As a result of the public inquiry, which was in 2008, planners at Powys council recommended an application for the embankment, known locally as Trewern argae, for approval, and the planning committee voted in favour of it on Tuesday.
It will be used to protect Trewern Hall and some of its 207 acres (84 hectares) of farmland, but people living in nearby Pool Quay claim the decision could have a huge impact on their livelihoods.
One of the objectors, Sue Whitworth, who runs a smallholding with her husband, said: "The public inquiry found that although 30 properties would be adversely affected, a Grade II-listed building takes precedent.
"This will have a detrimental effect on 30 properties and the livelihoods of people in the Pool Quay basin. We're very disappointed with the decision."
Tom Till, who is behind the argae scheme, has been asked to comment.
The argae was initially re-instated in June 2005, but it did not have planning permission.
It lies within the flood plain and there were concerns that it was too high and would pose a flood risk to 30 homes and 1,500 acres (607 hectares) of farmland.
Powys council, the Environment Agency and Powysland Internal Drainage Board all took action against Mr Till and he was fined £5,000 by magistrates in Welshpool for breaching two by-laws in 2006.
He denied the charges, but was also ordered to pay costs of £32,653. The argae was later breached by the Environment Agency.
A Powys council report said Mr Till appealed against sentence at Mold Crown Court later that year, and a compromise was reached between the Environment Agency and Mr Till.
As part of the agreement, Mr Till withdrew his appeal against his conviction and said he would reduce the height of the argae.
Mr Till continued with plans to re-instate the argae and a public inquiry in 2008 partially found in his favour, but also found that work on the embankment required planning consent.
The council report added that a public inquiry concluded that a building of such national importance was worthy of protection from flooding and this outweighed the "slight risk" to other properties from flooding.
Related Internet Links
The BBC is not responsible for the content of external sites.