E-fit released after attempted Machynlleth bank raid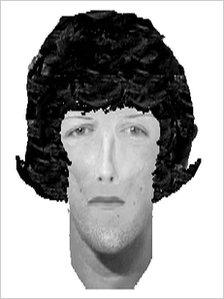 Detectives investigating an attempted robbery at a NatWest bank in Powys have released an e-fit of a man they want to trace.
Dyfed-Powys Police said the incident happened at lunchtime on Monday at a branch in Maengwyn Street, Machynlleth.
The man, in his late teens or early 20s, demanded money and was threatening to staff, but he was not armed.
There were no injuries and the suspect, who wore a grey scarf to cover his face, left without stealing anything.
Police said he had an English accent and could be staying locally.
They added that a man was seen "loitering in the area behind the bank in the Bank Lane", and after the offence officers believe he ran back down Bank Lane and across the town's main car park.
The suspect was described as 6ft (1.83m) and of thin build. He had dark hair, dark eyes and was thought to have stubble on his chin.
He wore blue jeans and a dark-coloured hooded top.
A police spokeswoman said: "A man entered the bank, demanded cash and was threatening towards staff.
"No-one was injured, no weapon was used, and the man left empty-handed after staff called for assistance. Staff were shaken and alarmed after the incident but unhurt.
"There is a potential that the man was a visitor to the area and may have arranged accommodation locally.
"The police would ask that the owners of campsites, bed and breakfast establishments or similar consider the description and contact the police with any relevant information."
Anyone with information is asked to contact Newtown CID on 101 or the independent charity Crimestoppers anonymously on 0800 555111.