Powys trading standards study finds faulty measures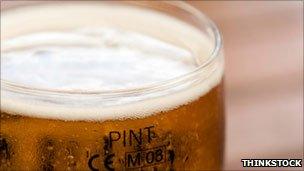 Dozens of drinking measures in pubs in Powys have been found to be faulty, a three-year study has found.
Trading standards inspected 2,617 pieces of weighing and measuring equipment at business premises.
They found that 77 pub measures were inaccurate, along with 63 weighing machines and 10 fuel pumps.
The checks ensure that consumers are not short-changed and also protect businesses from handing over too much, said Powys council.
Councillor Graham Brown, who is responsible for public protection with the council, said: "Almost all goods today are sold by some reference to either its weight or measure, whether by pint, litre, gram or metre.
"This includes everyday items such as bread, petrol, beer, clothing material, sand or virtually anything else you can think of.
"All goods, whether pre-packed or not, should be of the correct weight or measure stated on the packaging or indicated on the premises.
"Part of the job of our trading standards service is to ensure that the public receive the correct amount of any product they buy. But our checks also stop businesses dispensing more of a product than they should have."
Related Internet Links
The BBC is not responsible for the content of external sites.