Public meeting over controversial Powys 'super dairy'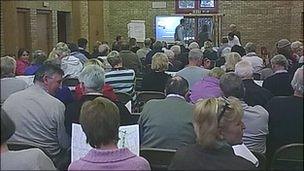 A farmer claims his "super dairy" plans are because supermarkets are "crucifying" the industry with low prices.
Fraser Jones wants to build the dairy near Welshpool for 1,000 cows.
He disputed concerns at a public meeting about noise and animal welfare.
Retail heads said supermarkets paid some of the best milk prices.
About 100 people attended the meeting to discuss the dairy proposal at Leighton.
During Wednesday's discussions, Mr Jones said the only way for him to survive in the dairy industry was to increase his herd because milk prices were low.
He explained it was costing him 30p per litre to produce milk and he was only receiving 25p per litre in exchange.
People raised objections about noise, smell, flies, increased traffic, the size of the development and its proximity to a primary school and homes.
But Mr Jones said: "Supermarkets are crucifying us - the British dairy industry. I'm being forced into this. It's either go bigger or give up. Statistics show a lot of dairy farmers are giving up.
"The only way forward is to go larger and become more efficient."
He said his sheds would be well ventilated, while manure would be sucked up using a special vacuum, which he claimed would reduce the smell, and he intended laying rubber mats on the floors to improve comfort for his cows.
He added that he employed a company to control vermin and would spray his cattle with fly repellent.
Mr Jones said: "You've got to look after your cows. If they are happy they will perform for you."
But the British Retail Consortium disputed his claims about supermarkets "crucifying" farmers over milk prices.
A spokesman said: "We hear this particular claim on a fairly regular basis, but it doesn't make it right or fair.
"Farmers don't generally deal directly with supermarkets and tend to deal with dairies and processors.
"Supermarkets are now tending to have contracts with dedicated groups of farmers.
"A list compiled by Defra (Department for the Environment, Food and Rural Affairs) shows the top ten best payers for milk are supermarkets."
He said numbers of dairy farmers were falling and those remaining had to become more efficient, but he added that milk prices were slightly better now than they were this time last year.
Paul Harris, who organised the meeting, said Mr Jones put forward a good case.
"He is a sensible guy and he gave a good explanation. He convinced some people who were against it at the start of the meeting.
"You have to take his word for it that there will be no smell, noise or flies. My concerns remain about animal welfare, but it's not as bad as I first thought.
"I'm pleased he is planning to put down rubber mats in his sheds. There are other schemes that keep the animals in all the time and on concrete floors."
Mr Jones's plans for a "super dairy" have been criticised as "factory farming" by animal welfare charity Compassion in World Farming (CIWF).
But Mr Jones said his cows would be inside for 250 days of the year, and denied it was factory farming.
CIWF said the project sounded similar to a proposal in Lincolnshire, where it is concerned about the sheer numbers, excessive production levels and the lack of grazing.
Other critics of the project in Lincolnshire, say the sheer size of the operation - based on similar super dairies in the United States of America - will change the face of dairy farming in the UK as well as posing a real risk to the welfare of the animals.
Related Internet Links
The BBC is not responsible for the content of external sites.