Powys registrar, 89, retires after 60 years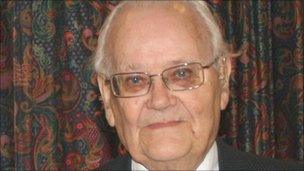 A registrar who has recorded thousands of births, marriages and deaths over the past 60 years has retired, aged 89.
Eddie Turner, from Builth Wells, Powys, was one of the UK's longest-serving registrars.
He recalled that his most unusual wedding was a groom who had broken his back in a plane crash and, bandaged head to foot, arrived by ambulance.
He was brought in on a stretcher, laid on a table, and with his one good arm managed to sign the wedding register.
Asked what he would miss most about his job, Mr Turner said: "The people, probably."
He started as a registrar in 1950 and in latter years worked out of converted police cells in Builth Wells.
The wedding of the man who had been in a plane crash goes back in the 1950s, but still stands out in his memory.
"Most of the man's body was plastered or bandaged apart from one arm and his toes," said Mr Turner.
"He was being treated at Builth Wells hospital and was concerned he was not going to survive.
"While being transferred to hospital in Swansea, the ambulance he was in pulled up outside my office.
"The man was carried out on a stretcher, dumped on a table and I married the couple. A doctor with him was one of the witnesses.
"Luckily he was able to move his one arm so he was able to sign the register," joked Mr Turner.
He added that the man survived and went on to open a chemist with his wife in Swansea.
Powys council chairman councillor Garry Banks thanked Mr Turner for his long service.
"I'd like to thank Eddie for his work in the county over the last 60 years," he said.
"He's a fascinating gentleman who's seen so much change in his working life and seen so much of the happy and sad moments in the lives of people in mid Wales.
"He is a highly respected member of our community and we all wish him well in his retirement."
Related Internet Links
The BBC is not responsible for the content of external sites.