Remote villages in Ceredigion plan to build phone masts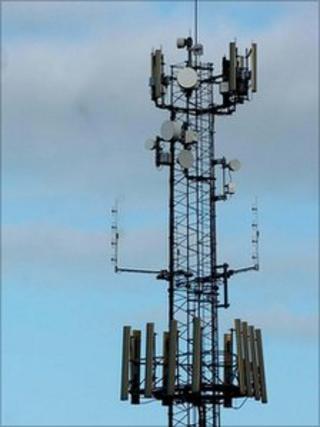 Remote communities with no mobile phone coverage are planning to build their own cellular masts in one of the first projects of its type in Wales.
A community group in the Tregaron area, in Ceredigion, intends to lease them back to phone companies, which had seen the area as commercially unsustainable.
Masts are planned in the villages of Ystrad Meurig and Llanddewi-Brefi, while a third is set for Tregaron.
The group is to apply for a £150,000 grant to help pay for the first one.
Duncan Taylor, chair of the Ger-y-Gors Community Forum, said residents and businesses in the remote area of Ceredigion had learned to live without a mobile signal, but were "fed up" with it.
Mr Taylor, from Pontrhydfendigaid, near Tregaron, said his mobile phone cost him £10 per year, but he had never used it in his signal "dead spot" village.
Mr Taylor said: "We believe this is an important social economic project that will benefit our community for many years to come. It will give peace of mind to the local population and the many visitors who use trails in the rural area where no land-line is available.
"It will bring fast and reliable broadband to a farming community where government returns are increasingly reliant on broadband connectivity. Many of our venues offering conference facilities are also currently losing business due to the problems associated with the lack of signal.
"Major cellular providers have indicated that leasing space on the masts is commercially viable for them, whereas providing masts of their own wasn't."
Running costs
Mr Taylor said income from the leases would help pay for the maintenance and the day-to-day running costs of the masts, which will be owned and operated by a non-profit-making company.
He added: "It seems ridiculous in an era of mobile-led technology that communities such as ours cannot use mobile phones.
"It is restrictive and difficult for people, especially farmers and the emergency services."
Llyr Jones, manager of the Bont Pavilion venue in Pontrhydfendigaid, said poor mobile phone coverage was "holding back" the business.
"The only complaint we get from customers, clients and visitors is about the lack of mobile phone coverage," he said.
"A few weeks ago we hosted a JRR Tolkien festival and we had people here from all over the world cut off from the outside world. They all had to use the village telephone kiosk to make calls.
"The masts will give a huge boost to the area. We will be able to compete with larger venues because at the moment it's holding us back."
Two local farms have been selected as the sites for the new masts.
The forum is set to apply for a £150,000 grant from the Welsh Assembly Government, which will help pay for the first mast in Ystrad Meurig.
It is hoped that will be working by the end of next year, with the following two masts in Llanddewi-Brefi and Tregaron, which has limited coverage, planned over the next three to five years.
The group recently received a £4,300 grant from the Communities First Trust Fund to pay for a second cellular mast survey.
The fund is managed by Wales Council for Voluntary Action (WCVA), and has funded more than 10,000 community projects in Wales' most economically deprived areas since it was launched in 2002.