'Competition' threat to Welsh nonconformist churches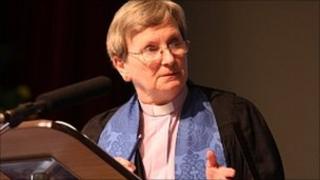 Competition between churches and denominations is threatening the future of nonconformist Christianity in Wales, according to a church leader.
The Reverend Gwenda Richards says that "unhealthy" competition had caused "jealousy and stubbornness" and "will be the death of us."
The Moderator of the Presbyterian Church of Wales is addressing its annual meeting in Lampeter on Tuesday.
She says Welsh Nonconformists must work together in the future.
Rev Richards, from Caernarfon, is addressing the subject and others in her farewell address as moderator in the general assembly of the Presbyterian Church of Wales in Lampeter.
It has around 30,000 members in more than 700 churches, as well as strong links with churches abroad.
"The great tragedy of nonconformism in Wales is the unhealthy competitive approach that has thrived between denominations, between churches and even between members," she will say.
"Since the beginning of the last century we've lived off competition - and I daresay that jealousy and stubbornness arising out of competition will be the death of us."
But she will say there is still time to change.
"As a church we have precious property: our chapels and chapel houses and colleges.
"What's important is that we remember that all of this, including ourselves, is God's property, and that it is all tools in his hands to carry out his work on this earth. Isn't 'co-workers' the key word here?"
She will also reflect on her year as moderator and pay tribute to the church members.
"Without them and their constant and unfailing dedication, much of the work going on would not be possible."
During the three day meeting Reverend Iain Hodgins of Penclawdd near Swansea will be invested as noderator for 2010-11.