Aberystwyth flats' makeover 'will cut heating bills'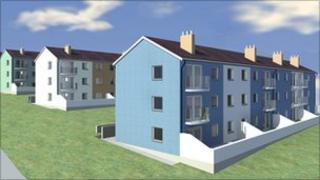 Homes in Aberystwyth are set to receive a makeover which could save residents up to 40% on their heating bills, a housing association claims.
The plans for the block of flats and maisonettes in Penparcau are part of a project to make them more energy efficient.
Proposals include new wall insulation, while parking areas will be improved and cycle and refuse stores built.
Tai Ceredigion has a £550,000 assembly government grant for the scheme.
An open day was held last month and residents were told that their homes would receive external wall insulation which could save them up to 40% on their heating bills.
'Residents' pockets'
The plans also include improvements to residential parking areas, terraces to ground floor flats, and a boundary fence will be erected.
Tai Ceredigion's chief executive Steve Jones said: "We are delighted to have started the consultation period by showing our tenants and leaseholders the first phase of improvement plans in the Aberystwyth area.
"It is a very exciting time, as these homes are in need of updating to the assembly government's current Welsh Housing Quality Standard.
"We hope that all the improvements will help create a more pleasant external environment, with the use of suitable colour mixes, as well as benefiting residents' pockets by providing more affordable warmth."
Tai Ceredigion said it had plans to spend up to £40m over the next five years on home improvements.