Post-mortem examinations stop at Aberystwyth hospital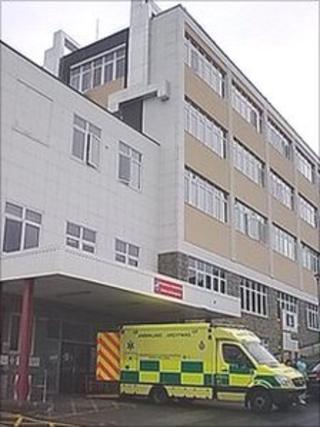 Post-mortem examinations are to cease at mid Wales' only district general hospital from next year.
Hywel Dda Health Board said the service at Bronglais in Aberystwyth would be replaced by a new mortuary at West Wales General Hospital in Carmarthen.
An undertaker claimed this could delay funerals, and said some post-mortems were also being carried out in England.
The board said the transfer of services was not a cost-cutting measure and there would be no significant delays.
Last month, the board denied it was downgrading Bronglais after a leaked report said it would lose some services. It said the report was out of date.
In light of the decision to relocate post-mortem examinations, it has repeated that it is not downgrading the hospital.
A spokeswoman added that officials had received no complaints from the Ceredigion coroner about delays to funerals.
About 200 post-mortem examinations are currently carried out annually at Bronglais, according to the health board.
A spokeswoman said: "A new and improved mortuary is being developed at West Wales General Hospital which will be able to offer a service to the Ceredigion Coroner from early 2011.
"The health board can assure the Ceredigion community that the transfer of post-mortems to Carmarthen will not significantly delay the time in which post mortems can be carried out.
"A respectful facility for relatives to view deceased family members will remain at Bronglais General Hospital."
She added that the majority of post-mortems were requested by the coroner, and it was at his discretion where they took place and the health board was in regular contact with him about this matter.
The spokeswoman said: "Currently, post-mortem examinations are being carried out in Bronglais General Hospital two days a week and capacity has remained consistent during the last three years with approximately 200 post mortems carried out each year.
"The coroner has not advised the health board of any delays to funeral services that are attributable to the local NHS, with the vast majority of post-mortems being carried out within a two to three-day period."
She added that the decision to relocate the service was not a cost-cutting measure.
But Aberystwyth funeral director Trefor Evans insisted there would be delays.
"I don't think this situation is right for bereaved families. They have been so used to having post-mortems in Aberytsywyth, at the drop of a hat if you like.
"It didn't matter when someone passed away, the family could get hold of the funeral director they wanted to do the service and they could get on with their arrangements but now they can't do that."
Mr Evans claimed that post-mortems were already being phased out at Bronglais and Ceredigion coroner Peter Brunton was sending some cases to Shrewsbury, Shropshire - a two-hour drive away.
Mr Brunton has been asked to comment.