Shoppers defect over major traffic problems in Newtown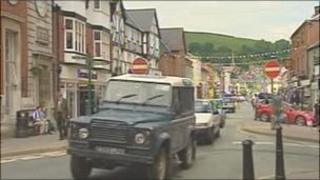 Shoppers are "deserting" a town because of "major traffic problems", a mayor claims.
Drivers have long faced tailbacks in Newtown, Powys, but there are complaints problems have grown since traffic lights replaced a roundabout.
Mayor Joy Jones said people were shopping elsewhere because it was "easier to get to", and driving across town now took 40 minutes instead of 10.
The Welsh Assembly Government said it was looking at ways to ease traffic.
But mayor Mrs Jones said businesses were feeling the pinch in the meantime.
"A journey across the town which previously took between five and 10 minutes is now taking about 40 minutes - this is really serious. We have major traffic problems," she said.
"During the summer, traffic was at a standstill and businesses are losing out. People are deserting the town and shopping in places, such as Welshpool, which are easier to get to.
"I've spoken to butchers in the town who say business is down. I've also received letters from people who said they would never travel through Newtown again because they've been held up."
She added: "We've always had traffic problems in Newtown, but they have become a lot worse since the new traffic lights near Tesco were introduced."
Three weeks ago it emerged that a camera system funded by Tesco to monitor traffic congestion had not been activated.
The lights were installed when the new Tesco was built, and the assembly government said the firm paid for the camera, but there had been problems.
Montgomeryshire MP Glyn Davies and Conservative Welsh assembly candidate Russell George are set to meet business leaders in Newtown to discuss the problems.
'Urgent solution'
Meanwhile, Liberal Democrat assembly candidate, Wyn Williams, said the manager of the town's Bear Lanes shopping centre had told him that footfall was down nearly 7% on August last year.
Mr Davies said: "The traffic chaos caused by the installation of traffic lights, combined with the opening of a new supermarket in Newtown, is a huge economic setback for mid Wales in general and Newtown in particular.
"If this chaos had been created in south Wales or north Wales, assembly ministers would shouting from the rooftops, searching for an urgent solution."
Mr Williams said he had carried out a survey which showed 89% of people who regularly shopped or did business in Newtown were considering moving elsewhere.
An assembly government spokesman said: "We remain committed to improving traffic flows through Newtown and we will be making an announcement on the preferred bypass route shortly.
"We are also investigating different scenarios to ease the traffic within the town and all parties involved will meet shortly to discuss the options."