200-year-old eco-home in Llanidloes in energy drive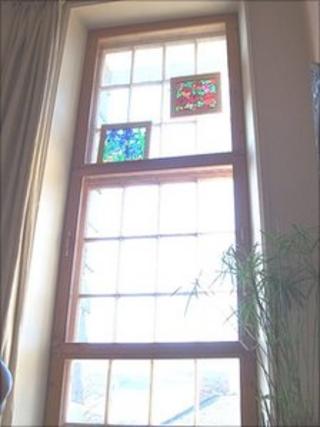 A 200-year-old eco-home which has cut carbon emissions by 60% is opening its doors to encourage more houses to become energy efficient.
Andy Warren's property in Llanidloes, Powys, is part of a UK-wide network of homes which have been refurbished.
A visit has been organised by the World Wildlife Fund (WWF) which is calling on the next Government in Wales to reduce house emissions by 40% by 2020.
Many older houses, like Mr Warren's, were not built with insulation in mind.
He transformed his property, which dates from the early 19th Century, in the late 1980s, and in recent years has added solar thermal panels.
It is part of the Old Home Super Homes project, which is run by the Sustainable Energy Academy (SEA) charity and the National Energy Foundation.
Mr Warren's house is one of only 200 in the UK, and two in Wales, which meets a criteria set by the project.
Head of WWF Cymru, Anne Meikle said: "The refurbishment of existing homes to tackle climate change is a key area for the next Welsh Assembly Government.
"WWF Cymru is keen to demonstrate to politicians that through supporting energy efficiency measures clear gains can be made in terms of meeting their carbon reduction targets and through engaging with the public on this positive agenda."
Mr Warren has worked as an ecological builder and design consultant and is an adviser on energy efficiency and renewable energy.
He said he had not kept track of how much it had cost him to refurbish his home because he had completed most of the work.
He has achieved a 60% cut in domestic emissions by installing external insulation, secondary double glazing, solar thermal panels, low energy lights, a wood pellet stove and a boiler.
"It's important homes are energy efficient for the good of the global environment, and without sounding dramatic it's a matter of survival," he said.
"New homes have cavity wall insulation as a matter of course, but older properties have solid walls and I've managed to externally insulate about 70% of my walls."
Jocleyn Davies AM, deputy housing minister, toured the property on Friday.