Sacred statue taken from Cardigan to the Pope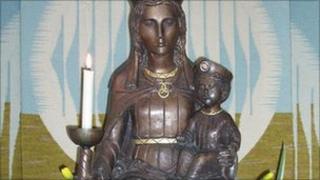 A statue that is sacred to Catholics is beginning its journey from Cardigan to London to be blessed by Pope Benedict XVI.
The Pope arrives in the UK on Thursday but is not visiting Wales.
The Bishop of Menevia Tom Burns said they were taking the statue of Our Lady of the Taper to him instead.
The bishop said he was confident the visit and the blessing at Westminster Cathedral would help the revival of the Catholic Church in Wales.
The statue is being taken first to Clifton Cathedral in Bristol by around 60 pilgrims from the Diocese of Menevia, which covers most of south west and mid Wales.
Following a vigil on Wednesday night they will continue their journey to London in time for Saturday's service
Bishop Burns said: "When I was with the Holy Father in Rome in February I had a private audience.
"I mentioned how sad the people of Wales were that the Holy Father was unable to come to Wales during his visit to Britain.
"I told him I had a plan to bring the statue of Our Lady of the Taper so that he could light the candle held in her hand and he said he would be delighted to do that."
The statue is one of the Virgin Mary.
Bishop Burns added: "Each country usually has a major shrine to our Blessed Lady who is the mother of Jesus.
"The custom has grown up here to have this statue."
He said he hoped the papal visit would spark a revival of the Catholic Church in Wales.
"We will renew our practice of our faith and reach out to others who perhaps don't share it with us," he added.