Cockle shells stop Aberystwyth mine pollution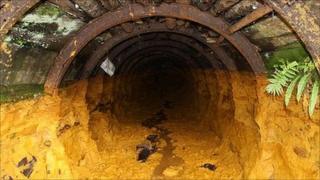 Pollution from a mine which has flowed into a river for generations is being stopped by an innovative filter made of compost, woodchip and cockle shells.
Water from Cwm Rheidol Mine, an old zinc works near Aberystwyth, had been entering the nearby River Rheidol.
But scientists at Newcastle University have developed a filter, which will form part of a pilot project.
Some of the most polluted metal mine sites in Wales are in Ceredigion, according to the Environment Agency.
The agency unveiled the Cwm Rheidol Mine scheme last year, but it is finally being put to use.
It said its pioneering work to improve water quality was part of a unique pilot scheme.
The mine has historically discharged large amounts of zinc and other metals into the River Rheidol, which means it is failing to meet the "good" water quality standards required by the European Union.
Toxic metals will be stripped out of the mine water before it enters the Rheidol, using an environmentally-friendly method that requires no energy source apart from gravity.
The treatment system will use a mixture of waste products, including cockle shells and compost, to encourage natural biological and chemical processes that clean the mine water.
The agency said last year that if its new filter system worked it could solve pollution problems not just in Ceredigion, but at mines around the world.
Similar methods have been successfully used to remove iron from coal mine waters, but this is the first time it has been employed to remove zinc and other metals from abandoned metal mines.
Paul Edwards of Environment Agency Wales said: "The work being done at Cwm Rheidol could also mean good news for other parts of Wales that suffer similar mine water pollution problems.
"Innovative projects like this one at Cwm Rheidol will help us achieve the challenging targets set by the eater framework directive."
Mining took place in Cwm Rheidol from the Bronze Age to just before World War I.
A filter system was developed in latter years, but the Environment Agency said it did not work and polluted water from Cwm Rheidol Mine was still ending up in the River Rheidol.
The Rheidol has a relatively high concentration of zinc, which puts it in danger of not reaching a "good ecological status" target by 2015.
But Mr Edwards said last year that concentration levels of zinc in the river were not dangerous and fish and other wildlife seemed unaffected.
About £230,000 has been spent on the project in Ceredigion so far, with funding coming from the Welsh Assembly Government and the European Union's Objective 1 scheme.