Work starts on £950,000 town library in Aberystwyth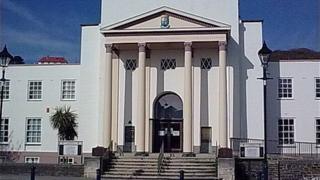 A £950,000 project to transform a town hall into a library has started in Aberystwyth.
The building is owned by Ceredigion council but it became redundant when the authority opened a new office a year ago.
The work on the town centre building is being jointly funded by Ceredigion council and the Welsh Assembly Government.
The project is expected to be completed by the summer of 2011.
Ceredigion council said the town's existing library was inadequate.
Councillor Ceredig Davies, who is responsible for education and community services, said: "This is an important milestone for us to see the contractors on site and working to make the town hall an ideal new home for the public library.
"It's an excellent opportunity to change and improve the service for regular library users and also to attract new users to the library for the first time."
Mr Davies said when completed the new library would have an "excellent collection of books, electronic resources", information technology, WiFI access and learning and meeting rooms.